400W solar panels are higher than the average power of solar panels available today and can be a reliable panel choice for many types of solar projects.
To decide if a 400W solar panel is right for you, it's important to understand what options are and how much energy a 400W panel produces.
What is a 400W solar panel?
A single 400W solar panel produces 400W of electrical output that can be used in commercial and residential solar projects. A 400W solar panel will generate around 1.2 and 3 kilowatt-hours (kWh) per day, depending of course on their exposure to sunlight and other factors including geographic location and inclination.
400-watt solar panel for boat and RV
The 400W panel is ideal for powering RVs, boats, and other devices for off-grid use. A 400W panel can power an RV or boat for a long time.
400W solar panel recommendation
Not many companies make true 400W solar panels. The following recommends a company that can produce 400W solar panels, which are not only powerful but also foldable!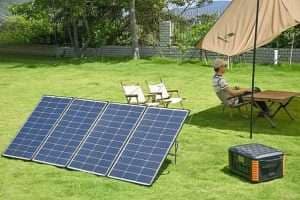 SUNGOLD Hi-Power 4*100W Folding Solar Panel
1. The Sungold Hi-Power Series Foldable Solar Panel is an efficient, foldable solar panel with a stylish and convenient carrying bag that can be easily carried with the help of the handle. It is suitable for high-power application scenarios such as off-grid homes, RVs, commercial vehicles, ships, outdoor camping, and outdoor emergency.
2. The weight is only 12.4kg, unfolded size: 2188*987*25mm; folded size: 987*547*90mm. It is very convenient for you to carry around. Paired with our stylish tote bag, it's not heavy at all.
3. Our solar cells use 166 monocrystalline solar energy, and the cell efficiency is as high as 22.62, which is unmatched by any company!
In summary
There are very few 400W foldable solar panels on the market that can be developed and manufactured with high quality. If you even come to SUNGOLD, I believe they will bring you more benefits