Portable Solar Panel for Power Stations
Camping solar panels - Ultimate Trusted solar energy equipment supplier
Sungold portable solar panel is lightweight and efficient, using patented materials and high quality solar cells, portable design with high compatibility, can be used with a variety of portable power stations, providing you with a clean and green power supply. Whether for outdoor camping, RV supply, or as a home backup energy, Sungold portable solar panel is a excellent solar solution.
Hi-Power Series is Sungold's high power portable solar panels for camping and RV, with folding and portable design, it is light and easy to carry and store. With IP68 waterproof rating, Hi-Power Series is the first solar panel series in the world to be certified by IEC63163. Hi-Power Series has three types of batteries: stacked watt, monocrystalline, and sunpower, and many high-power choices from 220w~440w, with the highest power generation efficiency of 22%, and among which, the HP-D 400w solar panel is regarded as the best portable solar panel. The HP-D 400w solar panel is considered to be the best portable solar panel. With portable design, high efficiency and strong compatibility, HP-D 400w solar panel is the best choice for portable power station.
1.High-efficiency solar cells: The SPC series monocrystalline solar panels utilize high-efficiency monocrystalline silicon solar cells with a conversion efficiency of up to 23%, ensuring effective conversion of sunlight into electrical energy.
2.Excellent portability: Designed with portability in mind, the SPC series portable solar panels are compact, lightweight, and easy to carry, making them perfect for outdoor activities while providing reliable power.
3.Versatile Usage: The SPC series Camping solar panels are suitable for a wide range of applications. Whether you are camping, hiking, or engaging in other outdoor activities,SPC series solar panels provide a reliable and sustainable source of power for charging your devices.
1.Attractive Desigh: The Winnerbag Series portable Solar Panels are designed with aesthetics in mind. Their overall design is visually appealing, and the color scheme of the handles adds an eye-catching element. The foldable and lightweight design makes it portable and easy to carry, making it a stylish and functional accessory for outdoor activities or travel.
2.Customizable Color Options: Winnerbag Series Custom Solar Panels offers the option to customize the color of the solar panel to your liking. If you have specific color choices or branding requirements, Winnerbag Series can meet your needs by offering a variety of color options.
3.Versatile Interface Compatibility: The Winnerbag Series portable solar charger is equipped with multiple interfaces to meet various charging needs. It can charge multiple devices at the same time, including mobile phones, iPads, tablets and laptops.
1.Lightweight and Portable: BXF series lightweight solar panels are designed to be lightweight, easy to transport and carry. They fold for easy storage in a backpack or hanging from a tent. Ideal for mobile activities and outdoor adventures.
2.Highly Durable: The one-piece molding process of BXF series portable solar panels enhances solar panel durability. They are more impact resistant and less prone to hidden cracks. A longer service life is ensured, making them reliable and durable.
3.Excellent waterproof performance: BXF series waterproof solar panel have IP67 waterproof rating, which means they can withstand rain and will not be damaged even if temporarily submerged in water.
1.Anti-corrosion and anti-aging ability: ETFE is used as the surface material to ensure that the LVP series folding solar panels have excellent anti-corrosion and anti-aging properties.
2.Lightweight Design: The LVP Series suitcase solar panels feature a glass-free design for significant weight savings. suitcase solar panels are protected by an aluminum alloy frame, further enhancing their structural integrity while keeping the overall weight low.
3.Foldable and Portable: The LVP series foldable solar panels adopt a foldable design, which is highly portable and easy to carry. the portable foldable solar panels are equipped with handles made of anti-aging materials, further enhancing their portability and ease of use.
1.Easy to carry: SGF series handheld solar panel are designed with handles for easy transportation and portability. You can take them anywhere and use solar energy solutions in different locations.
2.Waterproof and weather-resistant: SGF series folding solar panels have IP67 waterproof rating and are sealed with solar silicone to prevent moisture from entering.
3.Durable: SGF series folding solar panel are built to last. Extensive testing ensures their stability and reliability. Solar panels can last for decades,
Are Portable Solar Panels Worth It?
Sungold portable solar panel is versatile, lightweight and easy to move wherever you go, it can absorb the sunlight to provide you with sufficient power. Portable solar panels are ideal for off-grid applications such as outdoor camping, road trips, RV trips, and emergency backup power, and can also be used for grid-connected applications such as powering a home when paired with solar components such as batteries and micro inverters. Flexibility, portability, convenience, low installation and maintenance costs, and the ability to reduce electricity bills make portable solar panels a reliable investment
Portable Solar Panels - Solar Energy Anywhere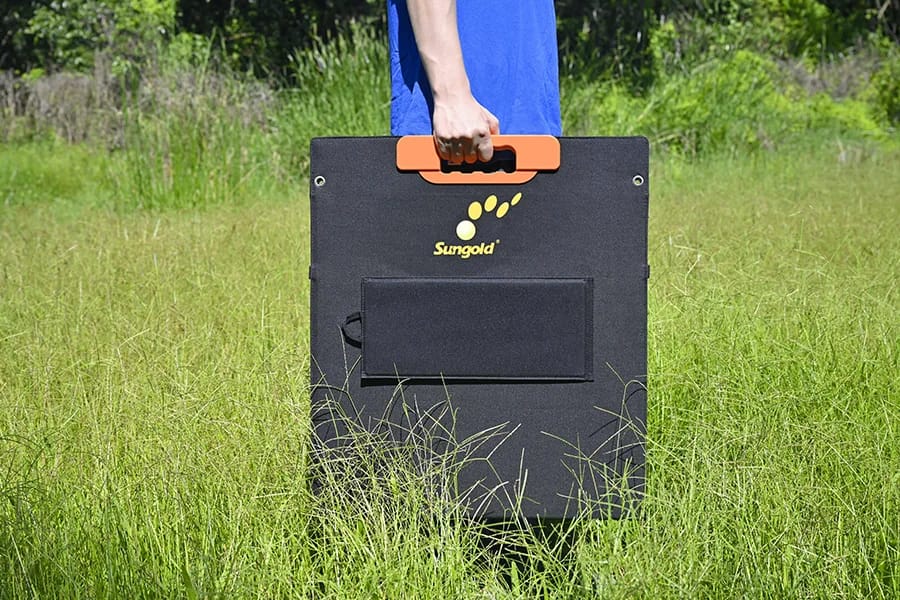 Go Power With You Everywhere
Sungold portable solar panel features a lightweight and portable design with a durable nylon carrying bag in addition to the carrying handle design, making it easier to store and carry. Storage protects the solar panel when idle, and it fits more compactly into a car or caravan to take up less space. Compact and lightweight design, easy to carry to the camper and then install it easily. Able to provide you with power support anytime and anywhere.
Sungold portable solar panels utilize industry-standard solar connectors that are compatible with commercially available solar generators, portable power stations, and energy storage. Whether you want to connect your solar panels in parallel or series or link them to other third-party power generators, Sungold portable solar panels and the wiring that accompanies them will meet your needs.
Efficient Charging Experience
Sungold portable solar panels are made from high-efficiency solar cells that convert sunlight into electricity to power your electronic devices in an off-grid environment or as a reserve power source in case of emergency. Low-power portable solar panels are capable of charging smartphones, laptops, rechargeable power supplies and more, while high-power solar panels are capable of meeting the power needs of basic household appliances for off-grid living.
Durability and Trusted Quality
Sungold portable solar panels are made of ETFE surface material, even in extreme weather or harsh environments, the rugged exterior provides solid protection for the solar cells. In addition, Hi-Power series solar panels have reached the highest waterproof and dust-proof rating of IP68 in the market, which will not affect the normal operation of the solar panels even in humid or dusty environments. Some of the products have obtained IEC63163 consumer photovoltaic products certification, the quality is trustworthy.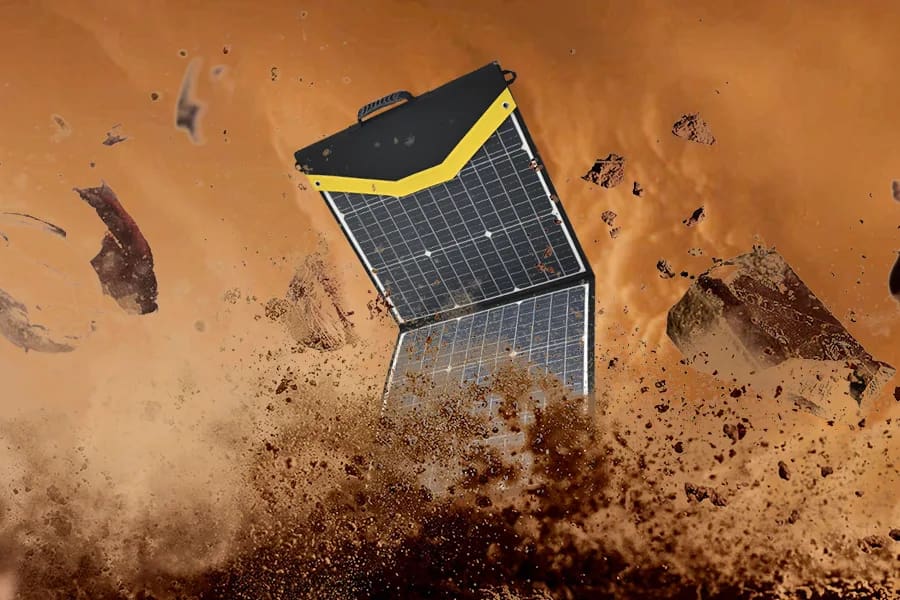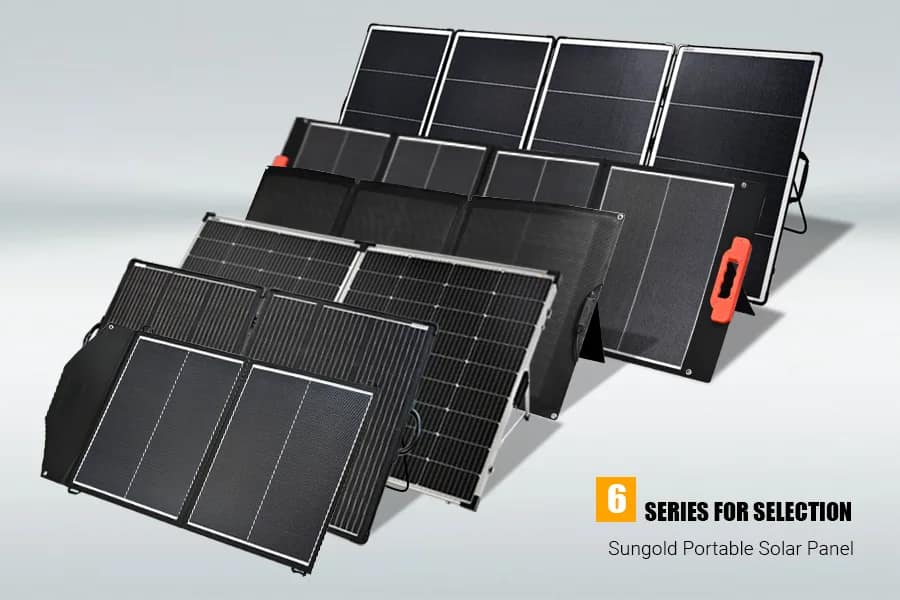 Widest Selection of Portable Solar Panels
Sungold provides the most widest and largest selection of portable solar panel kits on the market, we have a total of 6 series to choose from: Hi Power, SPC, Winner Bag, BXF, LVP, SGF; with a wide range of appearances,power, solar cells, performance to choose from, Sungold Solar supports OEM&ODM customization service, you can definitely find the best portable solar panels in Sungold!
Frequently asked questions
Are portable solar panels effective? The same technology that allows homes to run on 100% solar energy is used, albeit in a much more compact design.
Information About Portable Solar Panel
More tips and technology for portable solar panel can be found in the Sungold Solar article.
If you are interested in our products and want to know more details,please leave a message here,we will reply you as soon as we can.