With its abundant sunshine and vast desert landscapes, Arizona solar potential is best summed up by former governor Janet Napolitano, who said the state could be the "Persian Gulf of solar." Preferential state-sponsored tax credits and equipment tax exemptions have helped many Arizonans save money with solar energy. While the country has made the most of the sunshine, there is still room for policy improvement.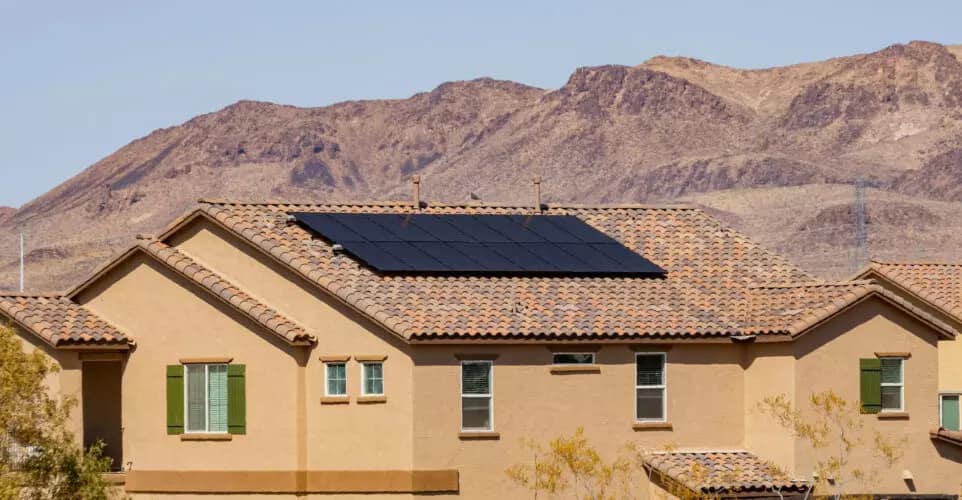 Arizona Solar Panels Save Over Time
According to the World Bank's Global Solar Atlas, Arizona solar panels in much of Arizona generate more than 1,800 kilowatt hours (kWh) annually. So, if you live in Phoenix and install a 5 kW system, your panels can produce over 9,000 kWh of energy per year.
The average electricity price in Arizona is 13.11 cents per kilowatt hour, according to the U.S. Energy Information Administration. So if your panels produce about 9,000 kWh of solar energy to pay your electric bill, you could save about $1,180 in energy costs per year.
If you consider the typical price of a 5 kW solar system ($8,855 after tax credits), you can expect an annual return on investment (ROI) of over 13%. In other words, you'll recoup the cost of purchasing the panels in approximately 5.3 years in terms of energy savings alone.
How much do solar panels cost in Arizona?
Homeowners in Arizona can expect to pay an average price of $2.53 per watt when installing solar panels, or $15,180 for an average-sized 6-kilowatt (kW) solar system. That cost is lower than the national average of $3.27 per watt, according to the Solar Energy Industries Association (SEIA) report.
However, because Arizona offers solar incentives, your out-of-pocket costs will be significantly lower. Solar panels qualify for a 30% solar investment tax credit (ITC) nationwide, with Arizona offering an additional 25% tax credit up to a maximum of $1,000. Arizona also offers sales and property tax exemptions for solar panels, making them even more affordable.
Average cost of solar panels in Arizona 
Here's a look at the average cash price for a 5-kilowatt system before factoring in tax credits incentives, according to data from FindEnergy.com.
Arizona solar panel costs
| | | |
| --- | --- | --- |
| System size (kW) | Price per watt | Total cost |
| 5 | $3.07 | $15,350 |
Factors Affecting Arizona Solar Installation Costs
There are many factors that affect the cost of a solar panel system. We've listed some of the most important ones below.
Energy Consumption: The higher your average monthly electricity bill, the more you can save by going solar. However, your upfront costs may be slightly higher because you'll need more panels and components to power your home.
Solar panel type: The type of solar panels used in the system can also affect the overall cost. Monocrystalline solar panels tend to be more expensive than polycrystalline and thin-film panels. This is because the manufacturing process of monocrystalline silicon panels is more extensive. However, they offer the highest efficiency.
Roof type: Solar panels are suitable for many types of roofs, including metal roofs, shingle roofs and flat roofs. However, each roof type requires different labor and components to properly install a solar system. Roofs with multiple chimneys may require more labor, while south-facing roofs with steep angles of 45 to 60 degrees will produce better power output and therefore require fewer panels than other roofs.
Shading: Systems that experience full sun exposure will produce more energy with fewer panels. This may not be as big of an issue in Arizona, but if your home receives a lot of shade from trees or surrounding buildings, you may need to purchase more panels to provide the right amount of energy.
Payment options: If you choose a solar lease or power purchase agreement (PPA), you can't take advantage of tax benefits and rebates. Other financing options, such as solar loans, are more cost-effective, but you will pay more over time due to interest rates. Buying solar panels outright has a higher upfront cost, but will save you the most money in the long run.
Arizona solar panel incentives or rebates
While solar panels in Arizona can save you money on your monthly electricity bills, the upfront costs can be a deterrent. Thankfully, there are federal and state incentives to reduce the overall cost.
The federal government offers the Residential Clean Energy Credit (formerly known as the Investment Tax Credit) as part of the Inflation Reduction Act. This tax credit provides 30% of the total cost of a solar panel system as a credit on your federal income taxes.
The state of Arizona has additional state and local solar incentives. Find the list based on your ZIP code on the Database of State Incentives for Renewable and Efficiency. Here are a few to note:
Arizona solar incentives
| | |
| --- | --- |
| Program | Description |
| Net billing | Arizona residents can sell excess energy generated from their solar systems back to their electricity provider. |
| Property tax exemption | The addition of solar panels usually increases the value of your home. When this happens, property taxes can increase, too. Arizona has a property tax exemption in place to protect this increase for a solar installation. |
| Residential Solar and Wind Energy Systems Tax Credit | Receive 25% of the price of your solar system credited to your personal income taxes. The maximum credit is $1,000 and must be claimed in the same year as installation. |
| Solar and Wind Equipment Sales Tax Exemption | A 100% sales tax exemption for retail sales of solar energy devices installed by contractors. |
| Residential clean energy credit | Allows you to claim 30% of the total cost of your solar panel system back in federal tax credits. |
Arizona Solar Financing Options
There are several ways to pay for solar panels in Arizona, including cash, power purchase agreement, solar loan or lease. Each option has its pros and cons. Explore payment options to determine which payment option is best for you.
Cash: No interest or loan fees, but higher upfront cost. You will be eligible to apply for the Residential Clean Energy Credit.
Personal Loan: You can also borrow money through a personal loan. The main difference between personal loans and home equity loans is that personal loans are typically unsecured. This means there is no risk to your house. The downside is that they tend to have shorter terms and higher interest rates than home equity products.
Home Equity: You don't have to take out a loan from a solar company. Financial institutions offer home equity loans and lines of credit (or HELOCs) that are often used for home improvement projects. These loans can be used for basically any purpose and may be a good fit for your solar project. Shop around to make sure you're getting the best deal.
Power Purchase Agreement: The solar company owns the solar panels and provides maintenance of the solar panels. You only pay for the energy you use. Not eligible for solar tax credits and incentives.
Solar Lease: You pay a fixed price each month, but the company owns the panels. Not eligible for solar tax credits and incentives.
Solar loans: Easy to apply for and have low upfront costs, but may result in high interest charges.
Factors to Remember When Installing Arizona Solar Panels
Installing solar panels can cost thousands of dollars. Before embracing solar energy, there are a few things to consider.
Are you a homeowner? Homeowners can make solar decisions for their homes, but tenants are generally not allowed to make changes to the property without the landlord's consent. Tenants still have solar options, such as community solar plans, where you can subscribe to services like Arcadia and receive solar power from nearby panels.
Does your current home insurance cover solar panels? Check with your homeowner's insurance company to make sure your policy covers solar panels.
Do you have an HOA or neighborhood association? Arizona law states that an HOA may not prohibit the installation of solar panels. Check with your HOA or other neighborhood association before installation as they may still have rules and regulations regarding solar equipment.
What's the condition of your roof? Consider the age, size, slope and tree cover of your roof. Older roofs may require maintenance before solar can be installed, which may increase costs. The Department of Energy says solar panels work best on south-facing roofs that are sloped 15 to 40 degrees. A solar installer will evaluate your roof before installation.
Where is your home located? While solar panels can still work in partially shaded areas, they benefit most from at least four hours of direct sunlight per day. If your solar system is in shade most of the day, it won't produce as much power for your home.
Learn more: Just looking for emergency backup? Check out portable solar panels and solar generators.
What to expect from a solar installation inspection
An important part of your solar journey is the initial home inspection. This helps the installer determine what rigging systems, panels, inverters, energy storage systems and other important components of the solar system your home requires. Here are the steps typically followed for solar installation inspections:
Roof inspection: The installer takes measurements to check the dimensions of the roof. They identify any existing roof obstructions and discuss modifications to the proposed layout. Roof damage, such as broken tiles and worn shingles, will also be photographed.
Attic Inspection: The solar provider checks whether your attic is accessible and evaluates the truss layout or assembly of beams and nodes. If the layout is complex, the installation company will have to find a way around it.
Electrical inspection: A solar installer evaluates your home's current electrical system and develops a plan to integrate it with your solar system. Technicians also note the location of electrical conduits and any disconnects, such as electrical outlets.
Internet check: The installer may also ask about your Internet access. This is to determine what performance monitoring hardware should be installed.
Frequently Asked Questions About Arizona Solar Companies
Is it worth getting solar panels in Arizona?
One good thing that comes from having higher-than-average electricity bills is that the potential for savings is also greater. It only takes Arizona homeowners 12 years for their solar systems to pay for themselves, and the average lifetime savings from switching to solar comes out to just under $24,000.
Can you get solar panels for free in Arizona?
One of the most popular options for obtaining free solar panels in Arizona is through a solar leasing program. In this type of program, a solar company installs panels on a homeowner's property and then allows the homeowner to use the power generated by the panels for a fixed monthly fee.
Does AZ have a solar tax credit?
Arizona State Residential Solar Tax Credit The state tax credit is valued at 25% of the total system cost, up to a maximum of $1,000 in total. Those who are eligible may claim the credit for up to five tax years, but the amount of the credit cannot exceed $1,000 total.
How long does it take for solar panels to pay for themselves in Arizona?
Most AZ homeowners will pay off their systems in between 9 and 15 years. We recommend using a solar calculator or having a solar installer assess your home to estimate your payback period. If it's longer than 15 years, your overall savings will be lower than average.
How will Arizona's heat affect my solar panels?
Arizona has seen extreme temperatures, with numbers climbing into the 100s in cities like Scottsdale and Chandler. These high temperatures can affect your solar panels. Although solar panels can last for more than 20 years when used outdoors, solar panel efficiency can drop by 5 to 10 percent in high temperatures.Each solar panel has a temperature coefficient rating of 77 degrees Fahrenheit (25 degrees Celsius) and above. The rating represents the percentage of efficiency lost when outdoor temperatures exceed a 77-degree threshold. For every degree of temperature increase, efficiency decreases by a certain percentage. Most solar panels are rated between -0.3% Celsius and -0.5% Celsius. Arizona solar installers understand extreme temperatures and will help you find the best panels for your hot climate.
Is solar popular in Arizona?
Residential solar penetration in Arizona has been slowly growing over the past three years. Arizona ranks fifth in the nation for solar installations, with nearly 300 solar companies in the state. According to the Solar Energy Industries Association, the solar industry invested $14.5 million in Arizona in 2021.
With solar prices down 4 percent over the past five years and state government solar incentives and rebates available, more Arizona homeowners are turning to solar power. Arizona has had its share of solar policy controversies in the past, including a heated public debate over the benefits of solar and a 2016 decision to phase out net metering. However, the state government is working to encourage more homeowners to switch to clean energy.
How much does it cost to install solar panels on a house in Arizona?
In Arizona, you can expect to pay around $2.53 per watt of solar capacity, or $12,650 for a 5 kW system. However, after applying the 30% federal tax credit and the $1,000 state tax credit, the net cost drops to $7,855.
Are Solar Panels Worth It in Arizona?
The MarketWatch Guide team recommends that Arizona homeowners go solar. Arizona residents can save on solar installation costs by applying local solar resources and incentive programs, combined with the state's favorable net billing policy.
If you install a 6-kilowatt solar system in a city like Phoenix or Tucson, you can expect to produce 10,000 to 11,000 kilowatt-hours of energy per year. With an average electricity price of 14.13 cents per kilowatt-hour reported in October 2023, you could save $1,413 to $1,554 on your annual energy bill.
The typical price to install 6 kW solar panels in Arizona is $15,180, but you can lower your net cost through federal and state tax credits. Here are examples of savings you can expect based on the average cost of a 6 kW system:
As a U.S. resident, you can qualify for a 30% federal tax credit, which equates to $4,554.
By living in Arizona, you also receive a $1,000 state tax credit, for a total incentive of $5,554.
Arizona also offers sales and property tax exemptions for home solar systems.
Taking into account all these incentives, the net price of a 6 kW solar system will drop from $15,180 to $9,626.
Taking into account upfront costs and expected savings, the payback period for the home solar system in our example is 6.2 to 6.8 years. The best solar panels today come with product warranties of 25 to 40 years, making the payback period only a fraction of their useful life.
In addition to lowering your electric bill and offsetting your home's carbon footprint, you can install a home battery system to help prevent power outages in Arizona.