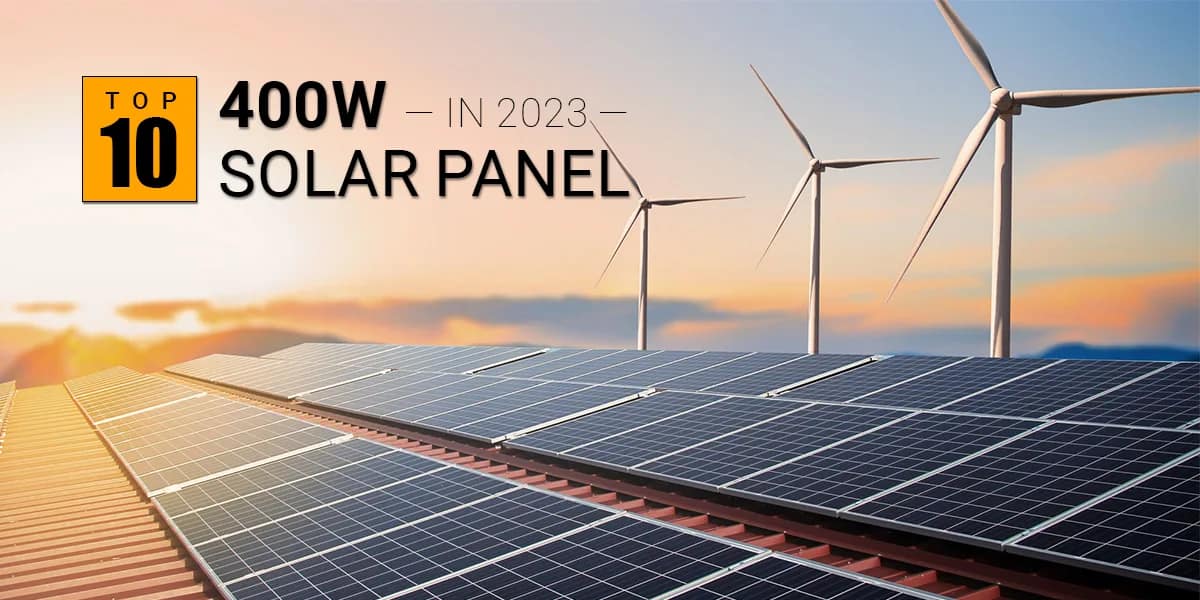 The gradual maturity of the solar energy market and the rising demand for solar power generation, high-wattage solar modules are gradually coming into the public's view .400w solar panels stand out among many solar panels due to their high power and high output, and have become a good choice for many solar users.
In this article, we will introduce the top 10 400w solar panel kit in the world in 2023 and hope to assist you in choosing a suitable 400w solar panel.
Best 400w solar panel kit in 2023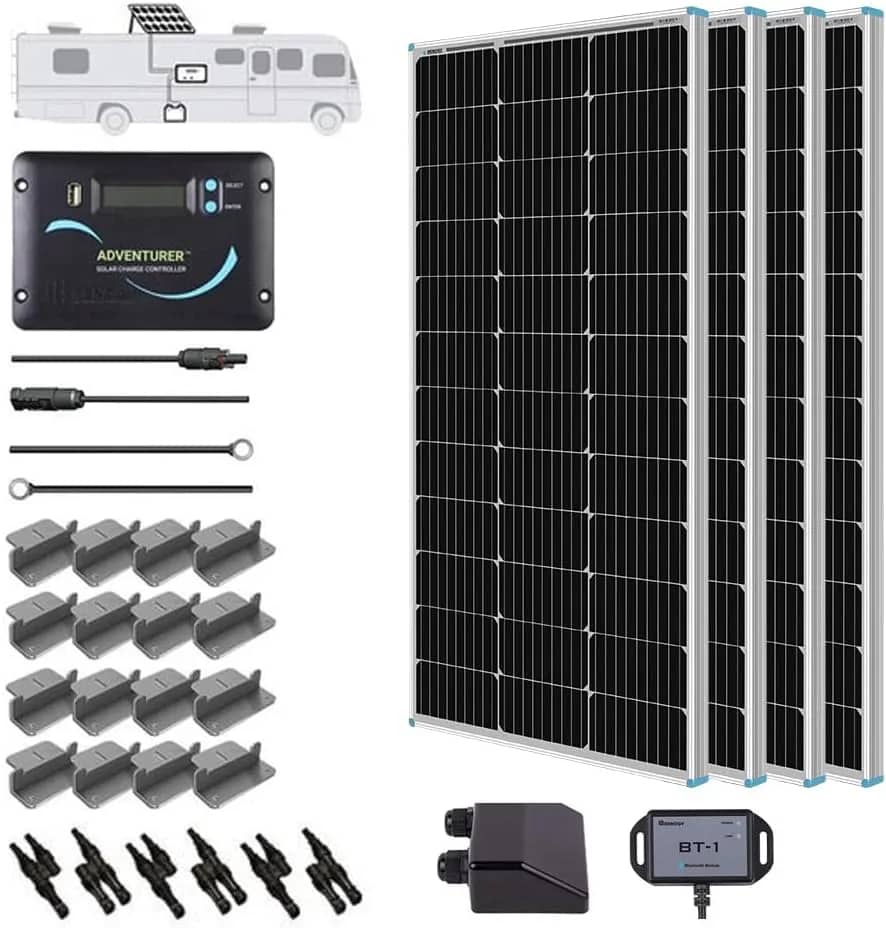 Renogy solar panels
Dimensions: 1071 mm x 497mm x 35 mm
Weight: 88 Pounds
Efficiency: 22%
Cell: Monocrystalline
Features
Wide application: Renogy 400w solar panel kits are suitable for a variety of applications such as RVs, campers, motorhomes, boats, greenhouses, etc. They can generate up to 1600Wh of electricity per day depending on the 4 hours of sunlight available.
Superior performance: Featuring a high solar cell efficiency of 22%, it has a corrosion-resistant aluminum frame that is suitable for outdoor use and will last for decades while withstanding high wind (2400 Pa) and snow loads (5400 Pa).
Multi-protection: Comes with Adventurer 30A PWM charge controller for 12V or 24V PV systems with protection against battery overcharge, overvoltage, over-discharge, and short-circuiting, as well as reverse polarity protection for aesthetically pleasing wall-mounting in RVs or motorhomes.
Easy to install: pre-drilled holes on the back and plug-and-play cables for quick installation. Supports the use of lithium, lead-acid, and gel batteries, while 3 pairs of Y-branch connectors are provided for parallel connection.
Renogy 400 Watt 12 Volt Solar Panel Starter Kit with 4 x 100 Watt Monocrystalline Solar Panels and 30A Wanderer PWM Charge Controller for RVs, Yachts, Trailers, Campers, Boats, Off-Grid Solar Power Systems.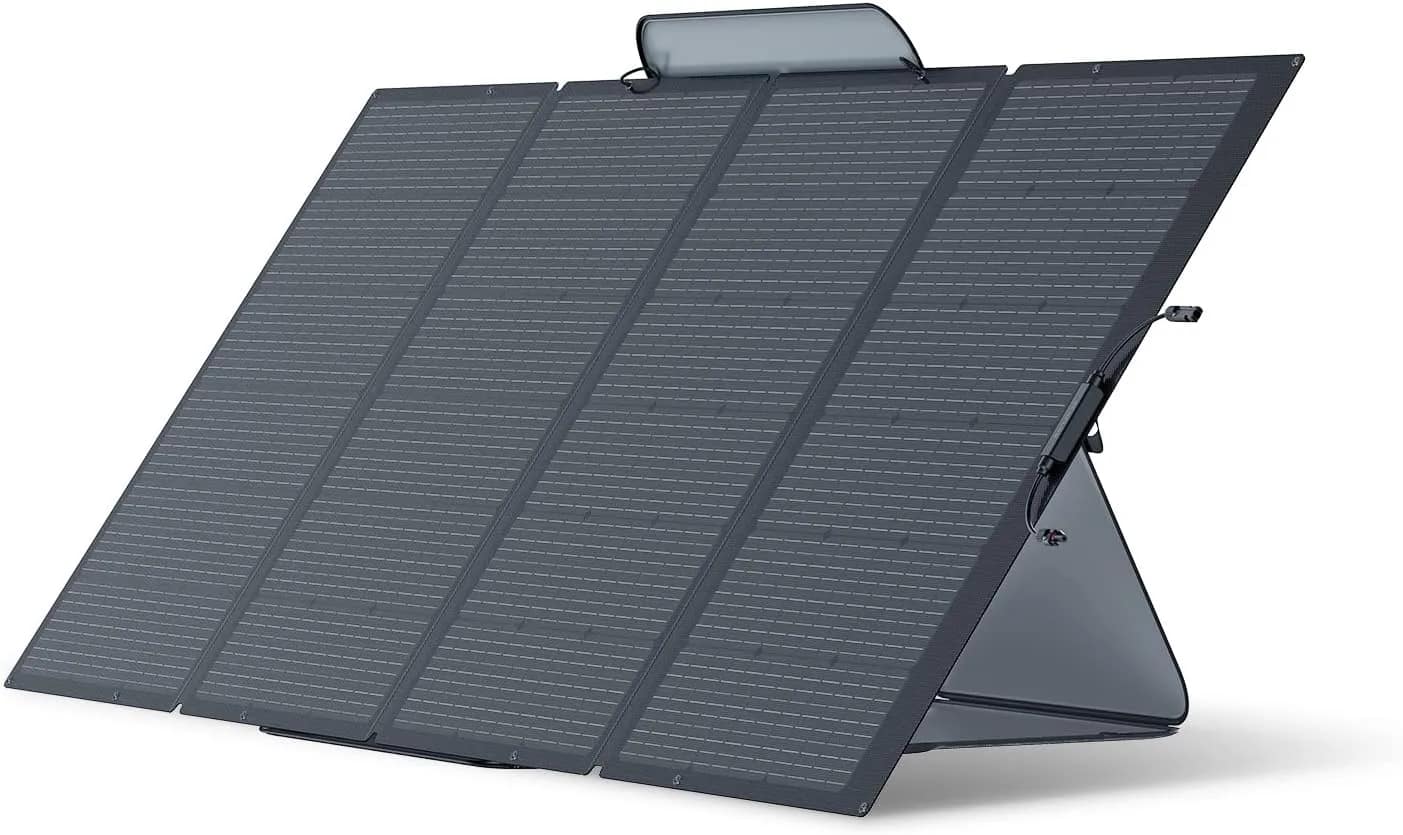 Ecoflow solar panels
Dimensions: 589 mm x 513 mm x 20 mm.
Weight: 34.2 Pounds
Efficiency: 22.4%.
Cell: Monocrystalline
Features
High performance: With a power input of 400W, this solar panel delivers a lot of power to your power station with excellent efficiency.
Portable: The EcoFlow 400w solar panel kit is foldable and comes with an adjustable carrying case. Weighing only 16 kg (35.3 lbs), it's easy to pack and carry wherever you go.
Weatherproof: the Ecoflow 400w solar panel is designed to withstand the elements. It is made of multiple layers of flexible EVA and strong fiberglass to ensure durability and portability. In addition, it is IP68 rated, meaning it is dustproof and sealed against water.
High efficiency: When paired with the EcoFlow Power Station, the 400W solar panel utilizes the MPPT algorithm to achieve optimal efficiency on both sunny and rainy days. In the field of solar panels, its conversion rate of 22.4% is amazing.
Ecoflow 400W solar panels are popular among outdoor camping enthusiasts because of their high output efficiency and ultra-lightweight, portable and foldable features, making them the star product of 400W solar panels.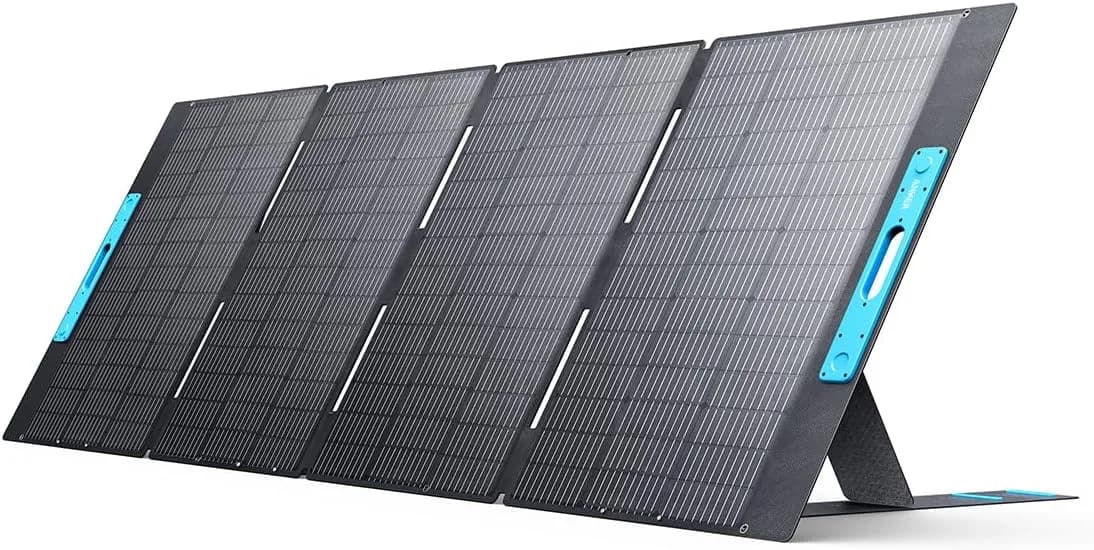 Anker solar panels
Dimensions: 913 mm x 682 mm x 50 mm
Weight: 25.6 Pounds
Efficiency: 23%
Cell: Monocrystalline
Features
High power output: Anker 400w solar panel SOLIX PS400 provides powerful solar power to quickly charge devices such as portable power stations.
High conversion efficiency: Using monocrystalline silicon solar cells and a highly efficient photovoltaic surface, the efficiency is as high as 23%, realizing 1.5 times faster charging and significantly reducing charging time.
Angle adjustment: The solar panel can be smoothly adjusted to 40°, 50°, or 60° by an adjustable bracket to get the best solar effect.
IP67 waterproof: Anker 400w solar panel is designed with IP67-rated waterproof, so you can camp and enjoy your adventures hassle-free.
The Anker 400w solar panel is an efficient solar charging solution that can quickly charge a wide range of devices with excellent solar conversion efficiency. It also features flexible angle adjustment and a waterproof design for a wide range of outdoor activities. Comes with a charging extension cable and warranty.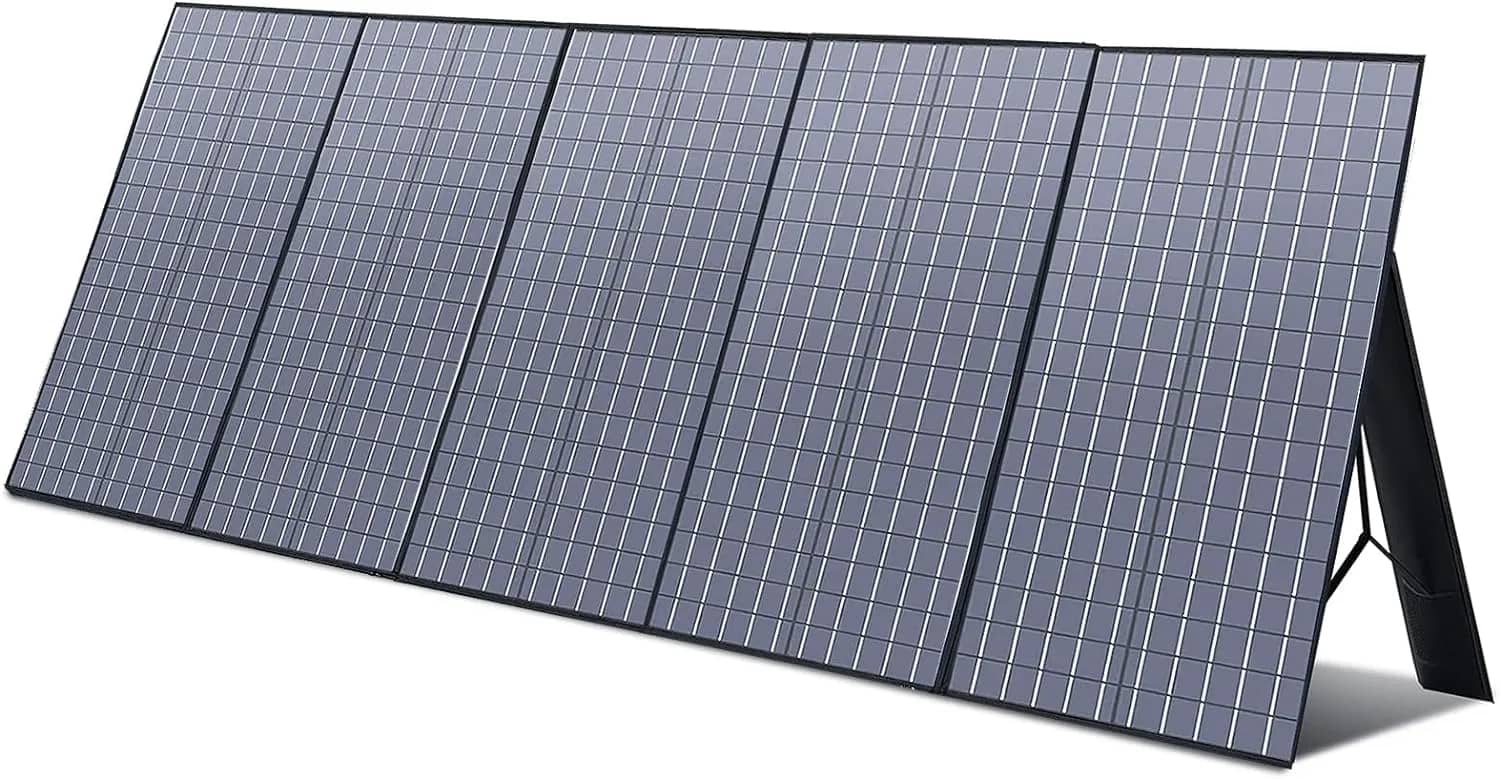 ALLPOWERS
Dimensions: 1049 mm * 2641 mm * 63 mm
Weight: 40.8 Pounds
Efficiency: 22%
Cell: Polycrystalline
Features
High power output:ALLPOWERS 400W solar panels provide a high power output of 37.4V, which is suitable for a wide range of ALLPOWERS solar generators as well as other large generators on the market. Significantly shorten the charging time, so you can enjoy the sunlight energy as soon as possible.
High generation efficiency: ALLPOWERS 400W solar panels utilize advanced polycrystalline solar modules that can convert up to 22% of sunlight into usable electricity. High efficiency saves more space and solar power is available even on cloudy days.
IP67 Waterproof: The 400 watts solar panel is made of ETFE material, which has excellent weather resistance and can withstand extreme weather, such as severe cold or high temperatures. It consists of multiple layers of flexible EVA and strong fiberglass for greater durability and portability. It is also IP67 rated against scratches, dust and splashes.
Foldable & Portable: folded size is only 41.3*104*2.5 inches and weighs 40.8 lbs. Portable and foldable.
ALLPOWERS 400W solar panel consists of 5 folding solar panels is a high power and high efficiency solar panel, providing you with reliable solar power.
RICH SOLAR
Dimensions: 1491 mm x 680 mm x 35 mm
Weight: 60 Pounds
Efficiency: 22%
Cell: Monocrystalline
Features
High generation efficiency: RICH SOLAR 400w solar panels are made of the highest grade monocrystalline solar cells for optimal output, and the panels are treated with an anti-reflective coating to maximize the absorption of light.
Easy to install: Pre-installed wiring harness requires no crimping tools, making installation a breeze. Highly compatible, so expanding, upgrading or adding is simple and easy …… Simply plug and play!
Reliable and convenient: Digital MPPT charge controller lets you measure power at a glance, with real-time updates on voltage, amperage and amp hours.
Extra long warranty: 25 years output warranty, 400w solar panel investment for long term.
RICH SOLAR 400W solar panels are an efficient, easy-to-install, reliable, and long-lasting solar solution, with an extra long warranty and long service life to ensure long term use and return on investment.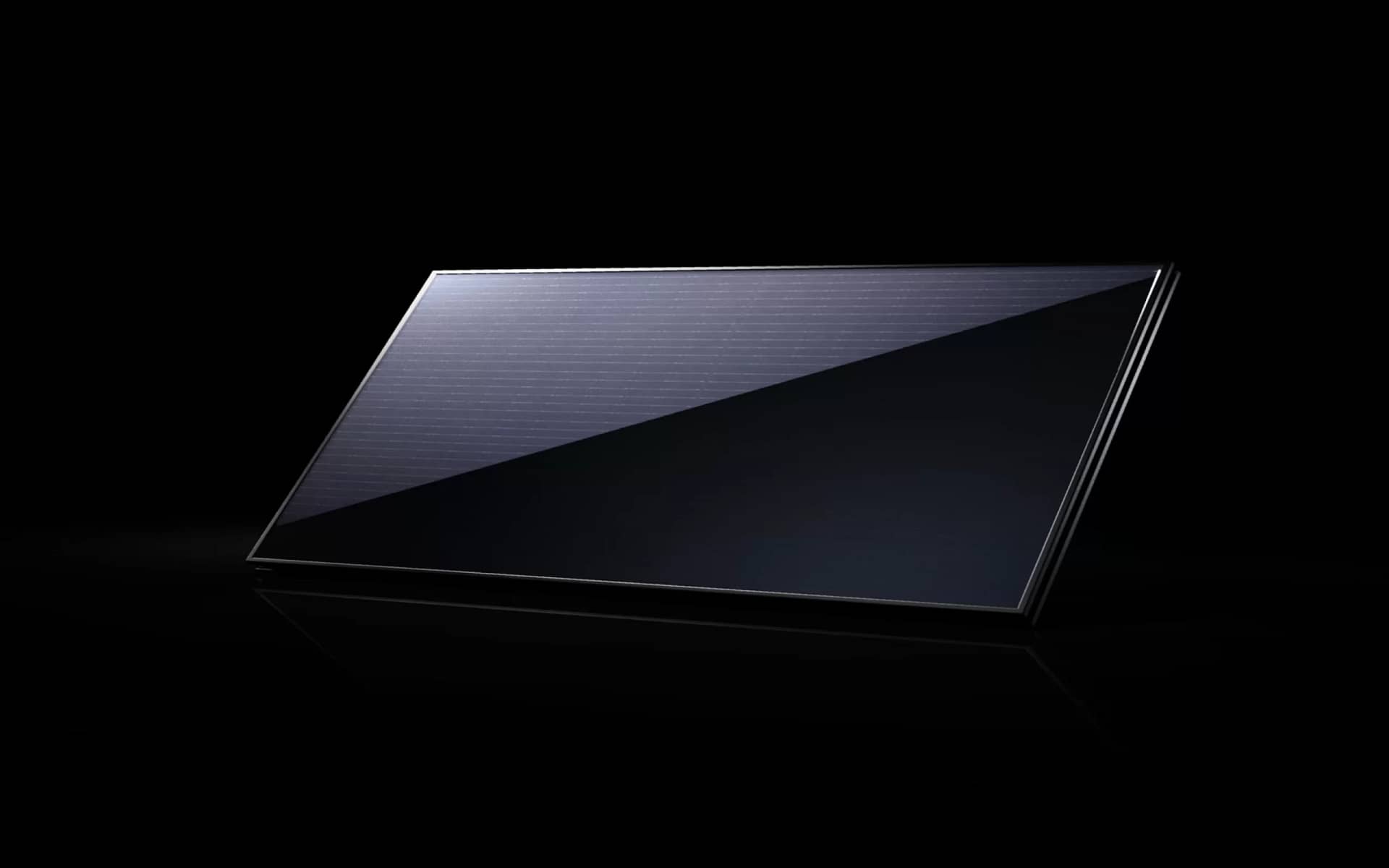 Tesla solar panel
Dimensions: 1889 mm x 1046 mm x 39 mm
Warranty: 25 years
Operating Temperature: -40°F up to +185°F
Certifications: IEC / UL 61730, CEC Listed, IEC 61215
Features
High power: This solar panel is rated at 400 watts, indicating its high energy-generating capacity, which makes it suitable for a wide range of solar power projects.
Wide operating range: It can operate normally in temperatures ranging from -40°F to +185°F, adapting to a variety of climatic conditions, including extreme cold and high temperature environments.
Rugged design: The solar panel of features a black anodized aluminum alloy frame for durability and corrosion resistance. It also features a black solar cell and back panel, making it more attractive in appearance.
Long-term warranty: Solar panel 400w comes with a 25-year performance warranty, which means that its performance should be able to be maintained consistently over this period of time. In addition, the inverter also comes with a 12.5-year warranty to guarantee the reliability of the system.
With multiple international certifications, Tesla 400w solar panels meet high standards of quality and performance requirements, representing a combination of high performance and reliability for a wide range of solar power projects.
HQST
Dimensions: 1062mm x 530mm x 30mm
Weight: 54.8Pounds
Efficiency: 22%~23%
Cell: Monocrystalline
Features
High output power: The HQST 400W solar panel kit is incredibly powerful, with a conversion rate of up to 22-23%, generating up to 2 kWh of power per day, depending on the sunshine. Its 9BB monocrystalline silicon panels offer better durability than traditional 5BB solar panels, reducing the risk of micro-cracks.
Convenient Monitoring: The kit's MPPT solar charge controller is easy to use with an LCD display and remote monitoring. You can easily set parameters through the app, and it's compatible with 12V or 24V DC systems and all types of batteries.
Efficient heat dissipation: The HQST uses advanced internal components to minimize heat-related power loss. This ensures stable, full-current output, even in high-temperature environments.
Durable construction: The HQST 400W solar panel is designed for long-lasting performance with a corrosion-resistant aluminum frame and multiple layers of protection, while the IP65-rated junction box and UV-resistant cables allow the kit to operate reliably in outdoor conditions.
With its high power output, easy monitoring, efficient heat dissipation, and durable construction, the HQST 400 Watt Solar Kit offers a comprehensive installation solution that is an excellent solar power option.

ECO-WORTHY
Dimensions:1225 mm x 525 mm x 225 mm
Weight:11.46 Pounds
Efficiency:21%
Cell: Monocrystalline
Features
High power generation: the ECO-WORTHY 400 watt solar panel kit is able to excel in low-light conditions by installing bypass diodes on the solar panel to minimize power loss due to shadows. This is essential to ensure the efficiency of your solar system.
Excellent quality: ECO-WORTHY 400 watt solar panel kit is made of high quality materials, such as 3.2mm low iron glass surface and 35mm wide aluminum alloy frame, which can provide better endurance. It can also withstand high wind (2400 Pa) and heavy snow (5400 Pa) loads with excellent durability. a 5-year warranty on materials and workmanship and a 25-year transferable power output warranty are guarantees of quality.
Maximum efficiency: The ECO-WORTHY 400w solar kit utilizes maximum power point tracking technology to achieve tracking efficiencies of up to 99% and peak conversion efficiencies of up to 98%, which is much higher than traditional PWM charge controllers. This not only improves energy harvesting efficiency, but also protects your system from overcharging and over-discharging.
Easy installation: Designed to simplify installation, the eclipse solar panel kit comes with pre-drilled holes in the back wall of each solar panel, 16 feet of cable with Y-branch included, and cable plug-and-play connectors to make installation easier and safer. Detailed accessory instructions further simplify the process.
The ECO-WORTHY 400 Watt Solar Panel Kit integrates powerful energy generation, superior quality, maximum efficiency, and easy installation to provide reliable and efficient performance for solar users.
Sungold Solar
Dimensions:2362mm x 900mm x 25mm
Weight:27.8Pounds
Efficiency:22%
Cell: Monocrystalline
Features
ICE63163 Certification:Sungold solar Hi-Power Series is the world's first consumer-grade PV product line to be certified by TÜV SÜD to IEC TS63163. HP-D 400w solar panel kit are made from industrial-grade PV materials, have undergone 15 specialized tests, and have received authoritative certification for consumer-grade PV modules.
IP68 Waterproof &Dustproof:The surface of the 400 watt solar panel is made of ETFE material with a protection rating of up to IP68, which ensures the reliable use of the solar panel in humid or dusty environments, waterproof and resistant to dust.
Compatible Power Station:With a maximum power of up to 400W and a solar cell conversion efficiency of up to 22.00%, it also comes with small Anderson, DC, MC4 and other easy-to-use connectors, making it ideal for use with high-power portable power station . High watt solar panels can drive more electricity supply and provide more reliable power security.
ETFE Surface Material:The excellent weather resistance, high light transmission and outstanding protection properties of ETFE surface materials significantly improve the performance and lifetime of ETFE solar panels 400w, providing a reliable guarantee of power generation efficiency and quality.
The Sungold Hi-Power 400w solar panel kit offers excellent power output and seamlessly integrates with portable solar power stations from 1 kWh to 2.5 kWh. Backed by patented materials and cutting-edge technology, this 400-watt solar panel is backed by a reassuring 5-year warranty for a better user experience.
Sungold 400w solar panels are ideal for high-power applications such as off-grid homes, RVs, commercial vehicles, boats, outdoor camping and outdoor emergencies.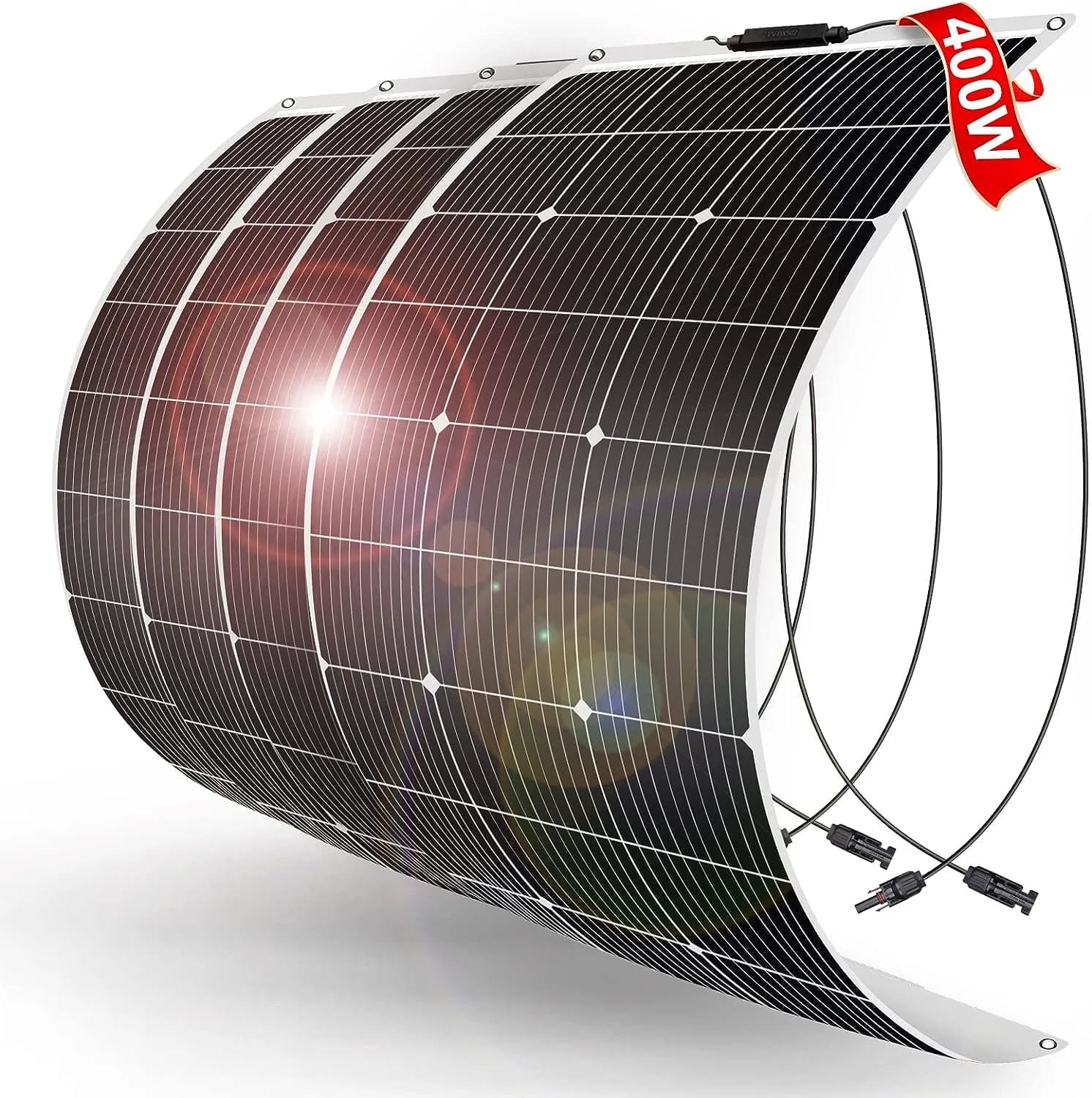 DOKIO
Dimensions: 1092 mm x 558 mm x 2 mm
Weight: 9.79Pounds
Efficiency: 22%
Cell: Monocrystalline
Features
Light weight & easy to install: DOKIO 400w solar panels weighs just 2.3 lbs and is a mere 0.03 inches thin, making them significantly lighter and easier to handle than conventional panels. It comes with metal grommet mounting holes for effortless installation, transport, hanging, and removal.
Extremely Flexible: Flexible 400w solar panel can flex up to a maximum 30-degree arc, making it an ideal choice for curved surfaces found in off-grid living spaces like roofs, campers, trailers, boats, cabins, sheds, tents, and yachts.
ETFE material: Crafted using ETFE material, our panel offers superior light transmission and exceptional durability.
High impact resistance: The DOKIO flexible solar panel is designed to withstand high wind pressure, heavy snow loads, and extreme temperatures. It features built-in safeguards such as a bypass diode and input overcurrent and reverse protection for added durability and safety.
Dokio 400 watt solar panels are the most popular 400w solar power solution on amazon due to their high performance, high efficiency, durability and easy installation, suitable for a variety of outdoor and off-grid applications, providing users with reliable clean energy power supply options.
Which 400-watt Panel is Right for You?
Anker, Sungold ALLPOWERS, and Ecoflow collapsible battery plates are all designed for portability. But if you need durability, you're better off with RICH SOLAR and ECO WORTHY, and if you need something lightweight for hiking, choose Sungold, designed for camping and RV.
The Sungold 400 watt solar panel is our top choice because it meets most people's needs. Because it comes with a charge controller and the necessary wiring, you can easily pair it with your battery bank. Rigid HQST 400 Watt Solar Panel is another reliable brand with a great warranty.
Those who own an AirStream model RV will benefit from Dokio's flexible panels, which can be bent to fit the shape of your roof. Additionally, if you have limited space to store the panels, these are thin enough to fit almost anywhere. If you consider customer service and branding, Tesla has to be the one to beat.
| | | | |
| --- | --- | --- | --- |
| Panel | Efficiency | Dimension | Weight |
| Renogy | 22% | 1071 mm x 497mm x 35 mm |  88 Pounds |
| Ecoflow | 22.4% | 589 mm x 513 mm x 20 mm. | 34.2 Pounds |
| Anker | 23% | 913 mm x 682 mm x 50 mm | 25.6 Pounds |
| ALLPOWERS | 22% | 1049 mm x 2641 mm x 63 mm | 40.8 Pounds |
| RICH SOLAR | 22% | 1491 mm x 680 mm x 35 mm | 60 Pounds |
| Tesla | – | 1889 mm x 1046 mm x 39 mm | – |
| HQST | 22%~23% | 1062mm x 530mm x 30mm | 54.8Pounds |
| ECO-WORTHY | 21% | 1225 mm x 525 mm x 225 mm | 45.84Pounds |
| Sungold Solar | 22% | 2362mmx900mmx25mm | 27.8Pounds |
| DOKIO | 22% | 1092 mm x 558 mm x 2 mm | 9.79Pounds |
400w Solar Panel Buying Guide
In the previous article we listed the ten best 400W solar panels for 2023, and now we're going to go further and provide you with a 400W solar panel buying guide to help you make an informed choice between these many options. Here are some key considerations and buying tips that can help determine the best solar panel for your needs.
Power Requirements:
First, determine your energy needs.400W solar panels are suitable for many applications, but make sure it's enough to meet your energy needs before purchasing, or if you need multiple panels to meet the demand.
Brand Reputation:
Choose a solar panel manufacturer with a good reputation. Look for companies that have a history and reputation in the market to ensure the quality and performance of their products.The 10 solar panels we recommend are all from highly regarded and well-known solar brands.
Efficiency:
The efficiency of solar panels determines their ability to convert solar rays into electricity. Look for high-efficiency panels to get more electricity in a limited space.The 10 solar panels recommended in the previous section all have a power generation efficiency of 21% or more
Quality and Durability:
Make sure the solar panels are of good quality and durability for long term use. These panels are usually subjected to harsh weather conditions, so durability is important.
Warranty Policy:
Understand the manufacturer's warranty policy in order to get the panels repaired or replaced if something goes wrong with them. Usually, a long warranty indicates that the manufacturer is confident in the quality of its products.
400W Solar Panel Datasheet:
When you look at a 400W Solar Panel Datasheet, you will find that it usually contains key information that can help you understand the above factors and help you understand the performance and features of the panel. A 400W Solar Panel Datasheet usually consists of the following information:
Panel specifications: Dimensions, weight, thickness, and cosmetic features of the panel.
Panel performance parameters: The solar panel's maximum power output (usually measured in watts, e.g., 400W), maximum power voltage, maximum power current, open circuit voltage, and short circuit current.
Temperature Characteristics: Solar panel performance at different temperatures, including temperature coefficient and temperature range.
Photovoltaic efficiency: The efficiency with which a solar panel converts sunlight into electricity. Usually expressed as a percentage, different solar panel types have different efficiencies.
Temperature Characteristics of Panels: The performance of a panel at different temperatures, including temperature coefficient and optimal operating temperature range.
Durability and Reliability: Life expectancy of solar panels, warranty period, and relevant certifications (e.g. UL certification).
How Many Amps per Hour Can a 400-Watt Solar Panel Generate?
How to calculate how many amps per hour a 400-watt solar panel can generate takes into account the operating voltage of the solar panel.
Typically, solar panels generate direct current, and the amount of current depends on the voltage. You can use the following formula to calculate the current (amps) produced by a solar panel:
Current (Amps) = Power (Watts) / Voltage (Volts)
In this example, we have a 400 watt solar panel, but the voltage will vary depending on the type and configuration of the panel. Common voltage ratings for solar panels include 12 volts, 24 volts, and 48 volts.
Let's calculate the current at each of these voltage ratings:
For a 12-volt solar panel: current in amps = 400 watts / 12 volts = 33.33 amps
For a 24 volt solar panel: current (amps) = 400 watts / 24 volts = 16.67 amps
For a 48 volt solar panel: Current (Amps) = 400 Watts / 48 Volts = 8.33 Amps
What Can You Power with a 400-watt Panel?
A 400-watt solar panel boasts versatility, capable of powering various appliances and devices in a residential setting. Here's a breakdown of common appliances and devices that a 400-watt solar panel can effectively run:
LED lighting
Fans
TVs
Computers
Small refrigerators
Charging devices
Small kitchen appliances
It's important to keep in mind that the number of devices you can power simultaneously with your 400-watt solar panel depends on factors such as available sunlight, any battery storage (if used), and the efficiency of the solar panels installed on your roof.
To maximize the advantages of your solar panel system, consider opting for energy-efficient appliances and arrange your panels according to your specific energy needs.
Is 400 Watt Solar Panel Enough for RV?
A 400-watt solar panel system can provide enough power for basic RV needs, such as lighting and charging small devices. However, for larger RVs or if you want to run appliances like air conditioners or microwaves, you may need a larger system, or you'll need to use energy-saving practices and a backup power source.
400-watt Solar Panels Go Power with You
For starters, make it clear how you intend to apply this 200 watt solar panel. Is it for RVing, camping, boating or some other use? Once you've determined the purpose, choosing the right brand, type of solar panel and warranty will be fairly simple.
Whether your concern is durability, portability, or energy reserves, the 10 solar panels we've listed will meet your needs. Additionally, many brands are not only compatible, but also manufacture batteries or other devices that work with solar panels so that you can use solar energy on an ongoing basis, rather than just relying on when the sun is shining.
Taking all of these factors into consideration, you can easily shortlist a product that meets your needs. Purchasing a 400 watt solar panel will make your off-grid living more environmentally friendly and reduce your carbon footprint.