To improve electrical performance and power generation efficiency, the SUNGOLD LEE series 100w flexible solar panel employs high efficiency 22.7% single crystal 182 solar cells.
It is a very strong, long-lasting, lightweight solar panel that is 70% lighter than traditional glass solar panels. The creation of black flexible solar panels made advantage of ray surface materials.
Because of their non-slip shape, flexible solar panels may gather more light at low sun angles, transmitting more light than regular glass and resulting in higher daily energy production.
It is an excellent choice for any off-grid solar system, particularly for mobile applications such as RVs and boats.
It includes pre-drilled mounting holes, solar connections, and junction boxes for installing 100w flexible solar panels quickly and easily.
The benefits of the LEE series 100w Black Flexible Solar Panel
1. Can be installed without the need for costly roof structural reinforcement; can be secured with adhesive, grommets, zippers, or Velcro.
The panel's pre-drilled holes make it ideal for non-permanent installations, allowing for simple installation and fastening.
2. Be cautious when installing and assembling solar panels since severe, reverse, or unequal curves might damage the panels. The solar panel should be bent at most 20 degrees.
3. The solar panel size and the junction box's location can be adjusted to meet the customer's needs.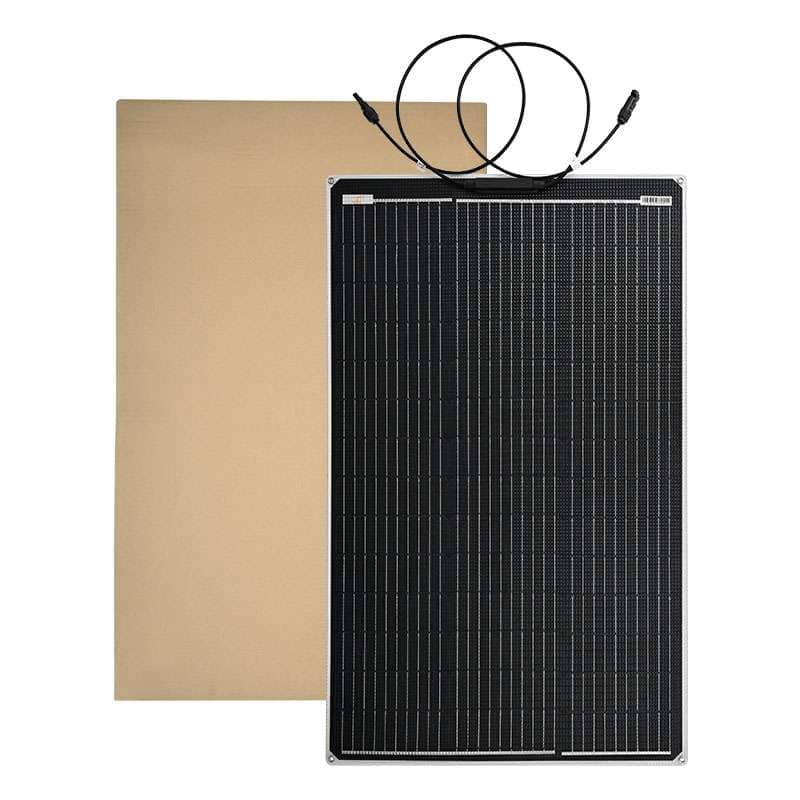 Characteristics of 182 MONO crystal solar cells
High-performance solar cells determine the quality of solar modules.
1. Best-in-class output consistency and efficiency. Enhancements above normal solar cells, increasing energy density and return on investment.
2. Advanced diffusion technology ensures that the efficiency of battery energy conversion is consistent.
3. The color of the cell surface is more homogeneous and appealing. Power generation per unit area is higher, and solar cell module efficiency can reach 22.7%.
Conclusion
Flexible solar panels that are lightweight and portable have grown in popularity.
If you take advantage of this sales opportunity, you can swiftly seize the lead in the solar business.
If you want to help us lead the world's solar sector, please get in touch with Sungold Solar.