As the solar trend continues to grow, there is now an innovative and well-designed way to get Foldable Solar Panel  without installing large panels in your home. Solar panels functionally fold up to generate easy-to-use solar energy. Read more about this innovative fashion product!
What is a solar panel?
A solar panel is a device that converts sunlight into electricity. Solar panels are made of different materials, including thin-film silicon, polysilicon, cadmium telluride, and copper indium selenide.
Foldable Solar Panel : what is it
Solar energy is increasingly accessible as a viable energy source, and many different types of solar panels can choose from. An increasingly popular type of solar panel is the foldable solar panel.
A foldable solar panel is a foldable and portable solar panel. This is a great option for those who want to use solar power but don't have the space to install large solar panels on their roofs or balconies.
Why would anyone want to use a foldable solar panel?
First,  solar panels are small, lightweight, and easy to transport. This means we can use them in places where there isn't enough room for conventional-sized solar panels, such as motorhomes—small ships, etc.
Second,  solar panels are cheaper than conventional-sized solar panels. This is because they are made of thinner materials and do not require much storage space or installation time. Finally, foldable solar panels are versatile – they can be used directly.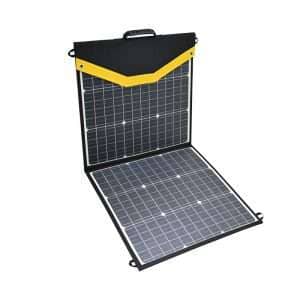 What can you do with foldable solar panels?
SUNGOLD Foldable Solar Panel kits  are ideal for various applications, from powering small electronic devices or lamps to generating electricity for large projects. 165W Portable Folding Solar Panel Kit from SPC Series is suggested for SUNGOLD Folding Solar Panel.
The cell efficiency with monocrystalline solar cells can reach 22.62%. Sungold solar cells are appropriate for energy storage since they operate significantly better in low light than other batteries, often have a 12v-24v output to charge lead-acid or lithium batteries, and are routinely connected.
Another set of portable solar panel kits has vital connections that plug right into the power source, making it simple to operate a mobile solar system. Charges all 12v-24v devices, including portable refrigerators, cell phones, fans, cameras, and tablets—waterproof Portable Solar Panel for Camping, RV, Outdoor, Rural Medical, and Emergency.
For example, some of the most common uses:
– CHARGE PORTABLE ELECTRONICS: Use the solar panel to charge your phone, MP3 player, or other portable electronic devices.
– Power Generation: Foldable solar panels can generate enough electricity for small power appliances or light fixtures.
– Generate heat: Foldable solar panels can also be used to generate heat, which is useful in many applications, such as heating food or creating a warm atmosphere in an RV or boat.
In summary
If you're looking for an eco-friendly way to power your devices, the SUNGOLD Foldable Solar Panel Kit could be the perfect solution. This type of solar panel is made of lightweight material and can be easily folded for storage when not in use. Everyone likes things that are convenient and powerful.
If you invest in this kind of foldable solar panel at this time, I believe it will be easier to get started and easier to make money than other businesses.
If you have an idea about becoming our distributor, feel free to contact us.