Portable solar panels are a great way to recharge your RV batteries when dry camping.With portable panels, you can easily dip your toes in the solar power waters.
They are also great if you only need to generate electricity via solar energy on occasion.
Also, portable solar systems are a great way to complement an existing installation of rooftop panels.They give you a bit of flexibility when it comes to parking in less than ideal solar locations.
Best Portable Solar Panel Reviews
We narrowed down the many choices in solar power to show only the best portable solar panels.Sungoldsolar is an industry leader in portable solar power. They are a natural choice for inclusion.
They produce an awesome product and a wide variety of panel sizes. However, they have the most expensive portable RV solar panel kits.Finally, if you don't want to spend much to get portable RV solar panels, look at our best on a budget solar panel kit. It isn't the best quality, but it will do the job.
Portable Solar Panel Purchase Considerations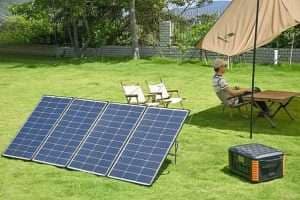 Below we offer some additional things to consider when shopping for the best solar panels for RV battery charging.
Waterproof Solar Charger Controllers
The best RV solar panels come with a solar battery charge controller that is waterproof.If you happen to purchase a portable solar panel without a waterproof controller, be very mindful of the wet weather.
Solar Panel Electrical Connectors
Another key thing to ponder before you pull the trigger on purchasing a portable solar power system is what type of electrical connectors it uses.
Often, they'll use the supplied wiring harness and alligator clips to connect directly to their RV battery bank.
If your RV comes with a pre-wired solar port that you plug portable solar panels into, pay attention to what type of connectors a particular solar panel kit has before you buy.
Or, simply change the connector ends.
That said, if you want to put your portable solar panel farther away from your motorhome or travel trailer, you'll need extension cables.
In that case, you must know what type of connectors your camper solar panels have. Then, you can buy a compatible extension.
Conclusion
Portable solar panels for campers are a great way to charge your RV battery bank. It uses free solar energy, courtesy of the sun.While a portable solar system isn't for everyone, it is a viable option if your camping style includes boondocking or dry camping.
If you camp off-grid for long enough periods where your batteries would be drained from normal use, solar power is an awesome solution.Your neighbors will thank you if you are using sunlight to charge your batteries instead of using a generator for RV use.
Now you have a better understanding of what is available when it comes to portable motorhome or travel trailer solar panels.Start enjoying the free solar energy today!