Camping with friends is always a good time when you're a kid. Enjoy the life of nature, Sungold Solar you deserve it.Every camping trip is different, and you don't want your smartphone, tablet, or laptop battery to die because you don't have backup power to charge those devices in your RV.
Outdoor entertaining is even more convenient when you can check and respond to emails and share your experiences on social media. That is why you should buy the best camping solar panels to get the best of both worlds.
The most effective best folding solar panels for camping
You don't have to give up your lifestyle comforts for appliances and gadgets because you can enjoy both nature's serenity and the convenience of technology. Purchase the best camping solar panels right now! Best Camping Sungold Solar Panel Recommendations
Sungold® Hi-Power200W Folding Solar Panel
Sungold® Hi-Power400W Folding Solar Panel
Sungold® Hi-Power300W Folding Solar Panel
Advantage: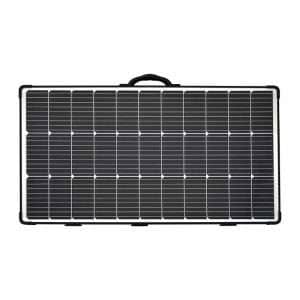 – Conversion efficiency up to 23%
– USB compatible to charge various devices
– Eco-friendly and user-friendly design
– Noiseless operation
– Leading brand of mobile power
Sungold Solar was founded in 2008 in Shenzhen, China, and has since grown to become a well-known leading brand in the field of portable solar energy. The brand provides one of the best power solutions, such as portable solar systems for camping, that enhance the overall experience of adventurers and outdoor enthusiasts.
Sungold® 200W Hi-Power Folding Solar Panel The Portable Solar Panel is well-known for providing an environmentally friendly power source for outdoor activities such as camping and hiking.
This portable solar panel has a high conversion efficiency of up to 23%, allowing you to enjoy more of the energy produced while giving your solar panel a better performance than other traditional solar panels. Panel performance in hot weather.
Furthermore, the system is completely silent, so you will not be bothered by any annoying sounds while it is running in the background.
You'll notice that the brand recognizes that most devices today are connected via USB, so this solar charger includes a USB output port. This model has 1 USB-C output port and 1 USB A output port, allowing you to charge multiple devices at once, including smartphones, digital cameras, tablets, and even power banks.
If you want a reliable and high-quality solar panel for camping, the Sungold® High Power 200W Foldable Solar Panel is a great choice and a wise investment.