Sungold is your off-grid solar wholesale supplier in China dedicated to providing our partners with the most advanced technology and highest quality components and equipment on the market.
Sungold has the technology to power all kinds of outdoor adventures, providing users with portable solar panels to adapt to different environments. From the yacht/ship/RV industry to mobile and off-grid applications.
Knowing their incredible efficiency, our off-grid solar systems provide reliable energy needs for outdoor activities.
4 Benefits of Off-Grid Solar
Prevent power outages:
Power outages can be stressful and inconvenient, but backup storage is available even in the most remote rural areas with an off-grid solar system.
Reduce electricity bills: Because solar energy is free, you are no longer reliant on the national grid. As a result, you no longer have any electricity bills!
Obtain total energy independence:
Remove all taxes associated with the national grid and fossil fuel energy. You can monitor and control how much energy is used.
Reduce your carbon footprint:
Off-grid solar systems generate electricity using solar power, a renewable energy source that is both sustainable and does not emit harmful toxins.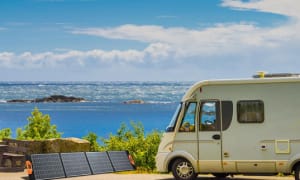 Why work with us?
1. By partnering with SUNGOLD's off-grid solar wholesale suppliers, you will be exposed to all industry-leading brands. As technology advances in the field, partnering with top solar brands is important to a solar company's success.
2. Only when the right product is available at the right time can the job be done well. At SUNGOLD, we pride ourselves on providing you with the right equipment, delivered on time, so you can keep your customers happy and your crew on the road.
3. No one likes to wait for a product. That's why SUNGOLD offers same-day shipping for most products in our inventory. A reliable off-grid solar wholesale supplier in China and worldwide will always be at the forefront of your industry and ahead of your game.
4. Our professional support team, with years of experience in the solar field, is always here to answer your questions. Are you looking for hard-to-get parts or have questions about your equipment, call the incredible team at SUNGOLD.
Summarize
Our team has been in the solar industry for many years and understands the challenges of installing a solar system. That's why we also offer quality customer service backed by practical experience. Join our team today and enjoy our high-quality equipment and exceptional customer service.