I used the Sungold 110w solar panel while camping in my car, so I know what this flexible panel can do. I brought it along to try it out in real-life situations, not just at home with perfect conditions.
I used some Sungold products on my camping trip. This article is about my review of the Sungold 110w solar panel.
I used Sungold products on my camping trip. This article is about my review of the Sungold 110w solar panel. I have had a positive experience with it, leading me to recommend it and even write an article about it.
Sungold 110W Solar Panel Review
First impressions count, it's why I put quite a bit of focus on writing about them. What did I think of the flexible solar panel by Sungold then?
Well, for starters the outer box is nondescript. It's a light beige or brown box with a simple Sungold logo adorned on the front. It's simple but fresh, and as far as I know, Sungold also offers OEM customization with your own logo.
When I couldn't wait to open it, the solar panel was fully wrapped in bubble wrap in a cardboard box.
It was surprisingly good, the packaging was neat and complete but not overly packed, which is the way I like it, after all, bloated packaging does not do me any good except cost me more in shipping.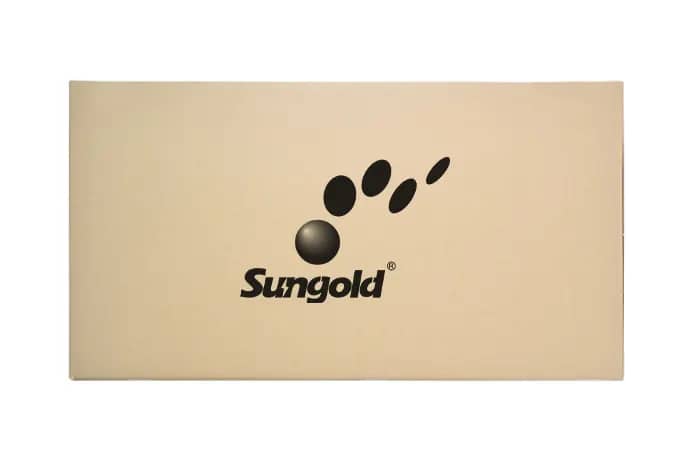 Build Quality & Features
No matter how perfect a product looks, it can't be a success without great performance and quality.
This 110W solar panel from Sungold is on my trailer and powers my bike's motor with the energy it produces.
The 110w solar panel is from Sungold's TF series. It is a lightweight panel that weighs only 2.1kg, so it doesn't burden my bike too much.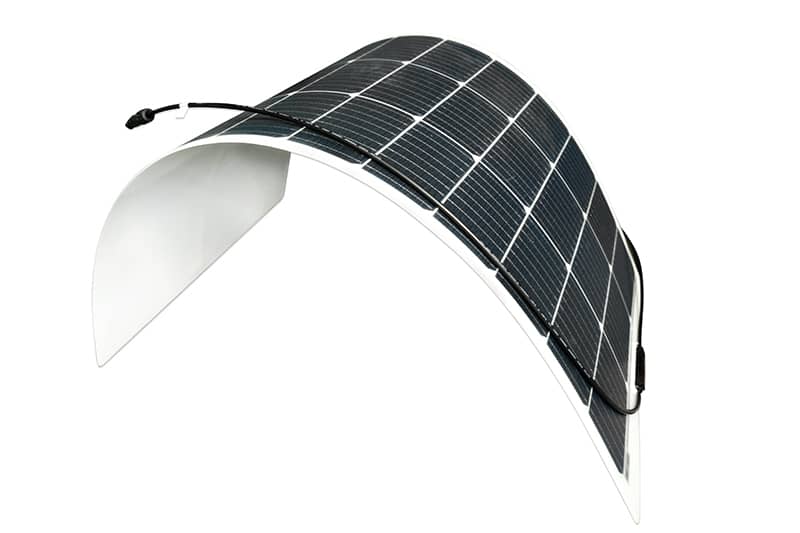 I believe solar panels are fragile. I initially thought this was only a small aspect of what I was getting into. However, I realized it could become overwhelming within a few days.
But it didn't. The solarflex solar panels are great for my outdoor rides, even on rough trails or in strong winds, with no harm.
I had an accident on a ride when I hit a rock because of strong wind and dust. My travel trailer got damaged and I was really scared.
BTW, the Sungold 110W solar panel was still intact.
After finishing everything, I linked the solar panel to the motor and it functioned normally without any decrease in efficiency.
With the sand behind me, I was glad that I could still rely on it to ride forward for supplies.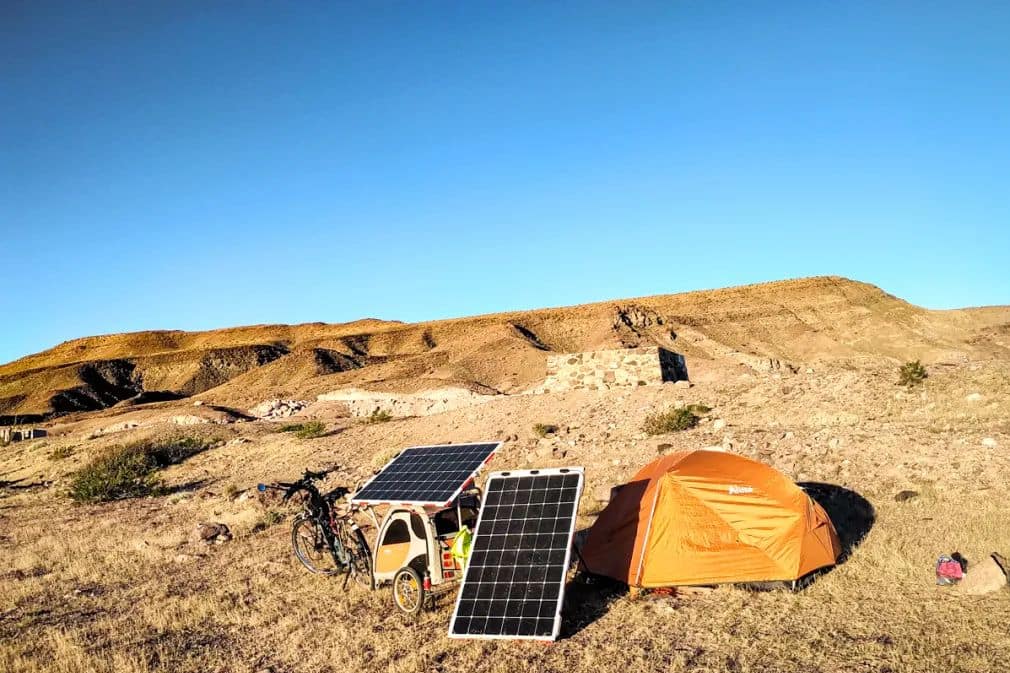 Are Solar Panels Waterproof?
Solar panels are designed to be weather-resistant, including being able to withstand exposure to rain and other environmental elements. They are not fully waterproof for underwater use, but they are designed to resist rain, snow, and moisture.
This solar panel is 110W and flexible. It uses the latest monocrystalline silicon solar cells and has a high conversion efficiency of 22.6%. It is made with multi-layer laminating technology for the best quality. ETFE material provides solar panels with good weather resistance, salt spray resistance, corrosion resistance, anti-aging, and good light transmittance.
110W Solar Panel Specifications
Below is a detailed description of the parameters for the 110w solar panel. We hope these details help you understand the 110 watt solar panel specifications, performance, and how to use it effectively.
110W Solar Panel Specifications
Maximum power(Pmax)
110W
Open-circuit voltage(Voc)
23.30V
Voltage at Pmax(Vmp)
19.80V
Short-circuit current(Isc)
6.00A
Current at Pmax(Imp)
5.56A
Cells efficiency(%)
0.228
The maximum system voltage
600V DC(IEC)
Power temperature coefficient
-0.38%/℃
Voltage temperature coefficient
-0.36%/℃
Current temperature coefficient
+0.07%/℃
Output power tolerance
±3%
Operating temperature
-40~85℃
Weight
2.10kg
Dimension
1080*540*2mm
Warranty
5 years
Sincerest Recommendation
When selecting 110 Watt solar panels, practical applications should be taken into account in addition to product parameters. It is vital that you choose a suitable solar panel manufacturer. As a practical user, I am more than willing to recommend Sungold as your first choice. Their products are of reliable quality, they have 15 years of manufacturing experience and they offer a professional pre and post-sales service.
Of course, you can choose from different types of 110 watt solar panels depending on your specific application requirements. sungold offers a complete line and range to choose from.