The Sungold hi-power 400W portable solar panel is a portable panel that consists of four foldable sections. It's light enough to carry, and the four attached kickstands make it easy to set up, even on uneven surfaces.
It is completely waterproof and can withstand throwing solar panel in water to wash them and then pick them up for direct use. What we love about the panel is that it's all one piece, meaning you don't have to fiddle with accessories, except for adapters (not included) to connect it to your power station.
400W Portable Solar Panel PROS
Monocrystalline cells
Compact and lightweight
Foldable and portable
Easy to set up
First Impressions
The Sungold  hi-power 400Wportable solar panel comes all in one piece with no added accessories. You'll receive a panel consisting of four foldable elements, each featuring an integrated kickstand. A pocket attached to one of the outer elements holds the built-in MC4 connector. Buckles and a handle make the whole unit portable.
The panel makes a great first impression. It's easy to set up, the kickstands provide good support, and the grommets and stitching along the panel's edges appear to be of good quality.
The panel picked up dust quickly when we tested it, but a quick wipe with a damp cloth made it like new again. The material that wraps the back of the solar panel is waterproof, as is the zipper covering the bag with the built-in MC4 connector.
While the panel is foldable and portable, it does weigh 28lbs (12.6kg), which isn't light. If you need to haul multiple panels and a power station, bring a helper or a dolly.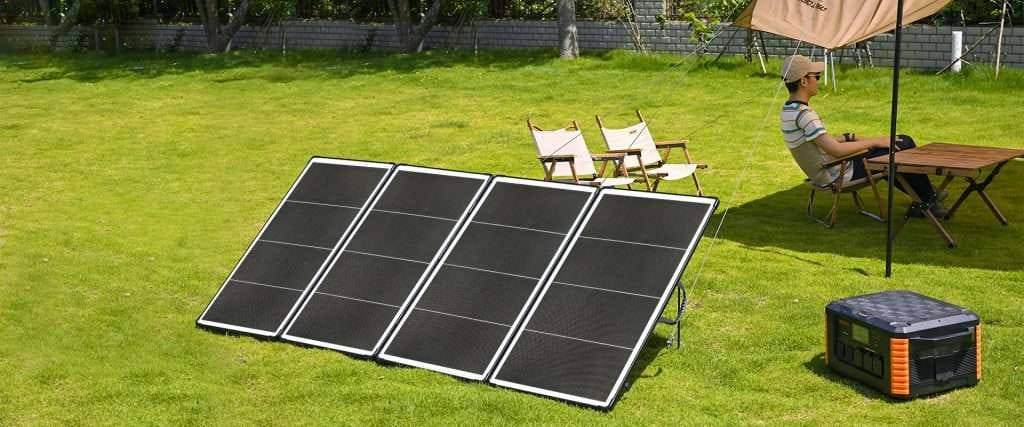 How to Wire 400W Portable Solar Panel in Series or in Parallel
If you have more than one sungold  hi-power 400W portable solar panel, you can wire it in series or in parallel. Wiring panels in series adds up their total voltage output, while maintaining the maximum current. Wiring them in parallel keeps the voltage the same, but increases the current.
The Sungold  hi-power 400W solar panel's manual provides wiring schemes for wiring in series (left) and a combination of wiring in series and in parallel (right).
To wire panels in series, connect the + terminal of one panel's MC4 connector with the – terminal of the neighboring panel's MC4 connector. Plug the remaining terminals (one + and one -) at the start and end of the series into the adapter that connects the series of panels to your power station. If your power station doesn't feature a built-in MPPT charge controller, wire one in to increase the efficiency of your setup.
To wire panels in parallel, create one chain with all the positive terminals and a second with all the negative terminals. This method lets the panels operate independently of each other, making it ideal for when you can't guarantee full sun exposure for all panels. Wiring in parallel is also an alternative if you need to use a PWM instead of an MPPT charge controller.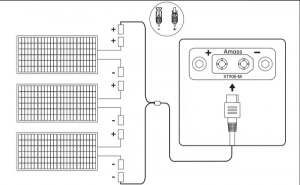 Should You Buy the sungold hi-power 400W Solar Panel?
Now you can buy sungold hi-power 400W portable solar panel in the sungoldsolar.us website by contacting the relevant salesperson, in the company's market pricing, which makes the cost of the panel reach this is more affordable than the EcoFlow 400W solar panel
This panel is great when you have space, so may not be the best solution for your balcony. Through testing, it has a waterproof IP67 rating, and it is completely waterproof and weatherproof, making it ideal for outdoor installations.
however,the solar cells themselves are IP67 rated and the zipper of the pocket securing the MC4 connector features a waterproof design, meaning the panel should be reasonably safe once packed up.
For easy setup and stability, we prefer the bracket for sungold hi-power 400W solar panel, because it can freely adjust the inclination of the bracket, which can get solar power more favorably。