Going off the grid can be a rewarding experience, especially if you have a reliable source of power. Portable solar panels are a great option for RVers to charge their batteries and keep them lit.
How to choose the best portable solar panels for RV?
When choosing a portable solar panel for RV, there are several factors to consider.
Weight
Since you will be traveling with portable solar panels, weight is an important consideration. Portable solar panels are foldable and easier to transport without adding too much burden to your trip.
Size
For RVs, be sure to use large-format, high-power solar panels. Portable panels for RVs typically range from 100W to 400W. If powering an entire RV, it is best to choose a panel with more than 100W of power. However, keep in mind that the more powerful the panel, the heavier it will be.
In addition, a 100W panel with a USB plug can charge your phone or tablet directly, without additional clips or accessories.
Storage:
The size and shape of the panel will affect storage. Foldable panels are easier to store. Be sure to check the size before you buy to make sure it will fit comfortably in your RV storage box.
Price:
The price of portable solar panels varies widely, depending on size, quality, and brand. It's critical to invest in high-quality panels that will meet your energy needs and last for years. Be sure to consider the total cost of ownership, including maintenance and replacement parts.
Sungold is a reputable brand that offers reliable products and excellent customer service. If you need help with your portable solar panels, Sungold offers warranty and support.
The Best Portable Solar Panels for RV
Sungold Hi-Power Series High Power Portable Solar Panels
This solar panel has the advantage of high power output and adaptability to portable power stations. The 400W high-power solar panel can charge your cell phone, fan, and other small appliances. IP67 waterproof rating to meet the needs of outdoor use.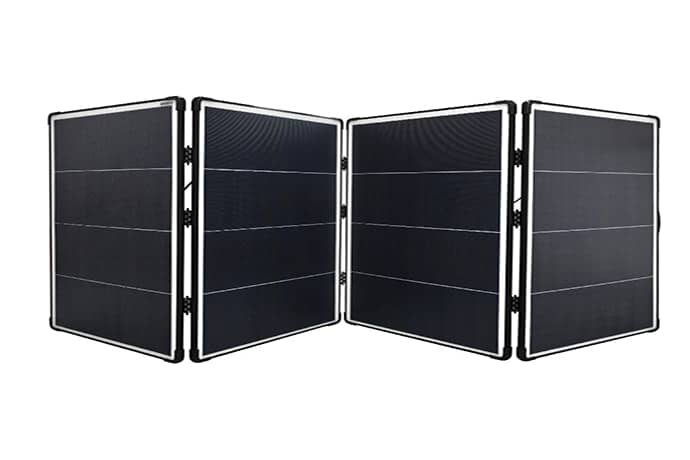 The Winner Bag series is a portable solar panel that is easy to carry as a cloth-sewn charging bag. It is available in different sizes and configurations, so you can easily choose the one that best suits your energy needs.
Sungold SPC Series RV Portable Solar Panel
The SPC Series is a foldable solar panel that is easy to install and transport. It is designed to be lightweight and durable. This solar panel is a great choice for RVers who need a reliable power source.
Frequently Asked Questions
Q: How long will the portable solar panel last?
A: With proper care and maintenance, portable solar panels can last up to 25 years.
Q: Can portable solar panels charge car batteries?
A: Yes, portable solar panels can charge a car battery. Be sure to use a charge controller to prevent overcharging.
Q: Do portable solar panels work in cloudy weather?
A: Yes, portable solar panels can still produce energy in cloudy weather, although they may be less efficient.
Q: Can I connect multiple portable solar panels?
A: Yes, multiple portable solar panels can be connected to increase energy output. It is important to note that multiple sets are connected in series at too high a voltage. If you are charging energy storage, it is easy to make the storage over-voltage protection not to charge. 3 or more sets of solar panels can be connected in parallel.
Your most sincere solar energy partner – Sungold.