The best Portable foldable solar panels charging systems range from 40 watts to 400 watts. These portable folding solar panels are a great way to maximize the storage capacity of your RV.
SUNGOLD Foldable Solar Panels
Portable Foldable Solar Panel Kit provides 12-volt power for 12-volt battery charging. They consist of two 12V solar panels hinged together so they can be folded together when not in use. They have hinged legs attached to the back of the solar panel, and a small solar regulator with clips that connect the power cord and battery.
The solar conditioner will ensure that the battery is not overcharged and you only need the sun to generate clean and free solar energy.The complete portable solar panel kit comes in a tote bag or case.
How long can SUNGOLD foldable solar panels last?
On average, the life expectancy of a solar panel is about 30 years. However, it all depends on panel quality, maintenance, and exposed elements. Since portable foldable solar panels can generate eight times more electricity than batteries and some other appliances, you can rely on them for all your RV camping activities.
The SUNGOLD Fixed Camping Solar Power System is a great option for those looking for a sturdy, reliable panel to install on their RV, van, or another camper.
The large panels are constructed of high-performance monocrystalline cells that provide 300 watts of output power and are constructed of thick tempered glass with enhanced stiffness for added strength and resistance. The corrosion-resistant frame means these panels can also last for decades.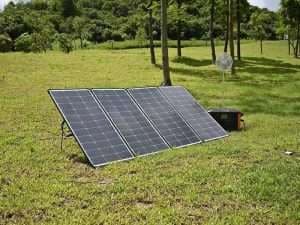 Additional features of the kit include pre-drilled holes for easy installation, a TPT backplane that improves panel performance over time, remote monitoring, and a 4-stage battery charging process. You can also expand the kit by adding more panels if needed.
For many satisfied customers, this SUNGOLD kit is a great option for those looking for the best solar panels for RV camping to mount on a roof or other similar surfaces.
Model: high power 3*100w
Weight: 9.5kg
Battery efficiency: 22.62%
Expanded size: 1640*987*25mm
Folding size: 987*547*70mm
Summarize
The Sungold Hi-Power Series Foldable Solar Panel is a high-efficiency, foldable solar panel with a stylish and convenient carrying bag that can be easily carried with the help of the handle. It is suitable for high-power application scenarios such as off-grid homes, RVs, commercial vehicles, ships, outdoor camping, and outdoor emergency.
Nowadays, there is a boom in camping, and everyone likes to travel in their RV. If you are doing solar energy distribution, I recommend you to SUNGOLD, where solar energy is your best business.