As the popularity of solar power increases, there is now a creative and well-designed way to use solar energy without having to put up big panels.
Functionally folding solar panel kits produce simple-to-use solar energy.
A solar panel is what?
A solar panel is a machine that uses solar energy to create electricity. Materials used to make solar panels include polysilicon, cadmium telluride, copper indium selenide, and thin-film silicon.
The most prevalent kind of solar panel is a thin film.
What is a folding solar panel kit?
There are many various types of solar panels available, and solar energy is becoming more widely available as a practical energy source. The foldable solar panel is a style of solar panel that is becoming more and more common.
A folding solar panel kit is what? A portable solar panel can be folded up.
The purpose of using a foldable solar panel is clear. There are several causes. First off, folding solar panels are compact, light, and portable.
This means that we can use them in locations where there isn't enough space for solar panels of the usual size, like motorhomes, small ships, etc.
Second, folding solar panels are less expensive than solar panels of the usual size.
This is because they don't need a lot of storage space or installation time and are built of thinner materials. Lastly, folding solar panels are adaptable and can be employed right away.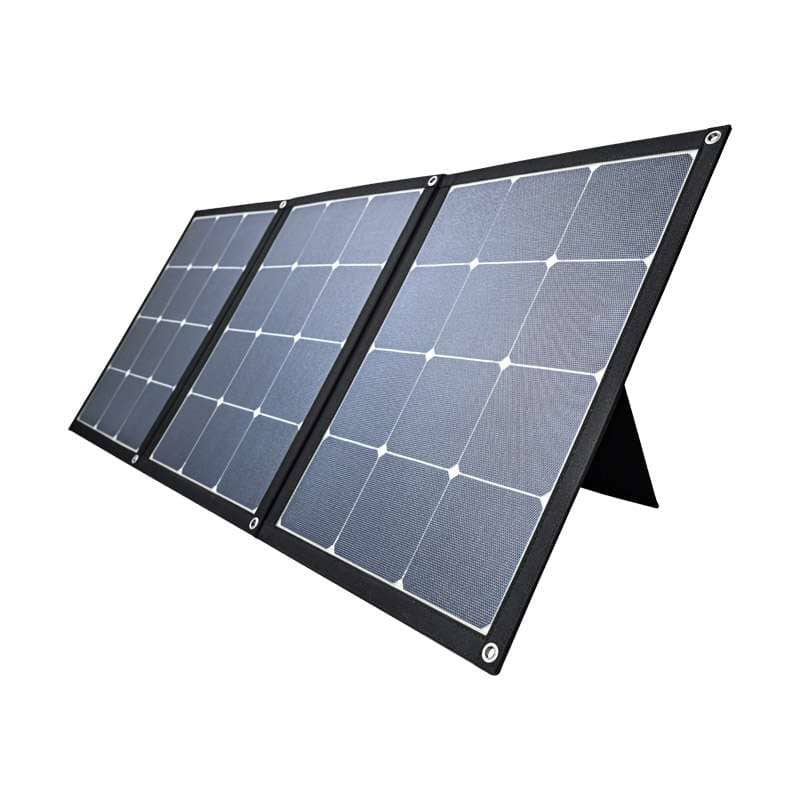 What are some applications for folding solar panels?
SUNGOLD foldable solar panels are perfect for a variety of uses, from generating electricity for major projects to powering small electronic gadgets or lighting.
It is advised to use the 135W Portable Folding Solar Panel Kit from the SPC Series with the SUNGOLD Folding Solar Panel. With sunpower solar cells, the cell efficiency can reach 24.4%.
Sungold solar cells are suitable for energy storage since they perform much better in low light than other batteries.
It is straightforward to run a mobile solar system thanks to a different set of portable solar panel kits that have essential connectors that plug directly into the power source.
Waterproof Portable Solar Panel for Camping, RV, Outdoor, Rural Medical, and Emergency. Charges all 12v-24v gadgets, including portable refrigerators, cell phones, fans, cameras, and tablets.
For instance, a few of the most widespread usage are:
– Charge portable electronics: Use the solar panel to charge your phone, MP3 player, or other portable electronics.
– Power Generation: Folding solar panels can produce enough electricity for light fixtures or small-power appliances.
– Folding solar panels can also be used to generate heat, which has a variety of uses, including warming meals and providing a cozy environment in an RV or boat.
To sum up
The SUNGOLD folding solar panel kit can be the ideal option if you're seeking a sustainable way to power your gadgets.
When not in use, this kind of solar panel may be readily folded and stored because it is constructed of lightweight material.
Convenient and potent items appeal to everyone. I think it will be simpler to get started and make money if you invest in this kind of foldable solar panel now than other enterprises.
Please get in touch with us if you have any ideas regarding becoming one of our distributors.