What is the highest watt solar panel
 Everything you need to know about the highest watt solar panel,The highest wattage solar panels are powerful and can be used for a variety of purposes. Learn more about the highest wattage solar panels below:
The Importance of Highest Watt Solar Panels
The highest watt solar panels can be used for a variety of purposes; therefore, it is very important. The most significant advantages anyone can expect from them are:
Users can expect high power generation output.
They require much less space to install.
The latest technology is used to assemble the highest wattage panels.
A more reliable power source than mainstream electricity supplies.
Don't waste resources.
Customizable and extensible.
Highest watt solar panel technology
Larger panel size
In the past, most electricity growth has come from efficiency gains due to advances in solar photovoltaic cell technology. While this is partly a driver of the huge increase in panel wattage, the main factors are the new larger cells and panel sizes being developed and the higher number of cells per panel. These new cell formats and configurations mean the physical size of the panels becomes larger. Generally speaking, these large panels are best suited for utility-scale solar power plants or large commercial facilities.
Traditionally, solar panels have come in two main sizes – the standard format 60-cell panels (approximately 1.65m high x 1m wide) for residential rooftops, and the larger format 72-cell commercial size panels (approximately 2m high x 1m wide) ). Then came the half-cut panels, which were roughly the same size, but with twice the number of half-size cells at 120 and 144 cells respectively. In addition to standard sizes, some premium manufacturers like SunPower and Panasonic also produce unique 96- and 104-cell panels.
For much of the past decade, industry standard panel sizes have been built around a 156mm x 156mm or 6-inch square cell format. However, emerging panel sizes are up to 2.4m and 1.3m wide, and are built around larger 180 and 210mm wafer cell sizes. Compared with the traditional 2.0mx 1.0m 72-piece battery panel, the size has increased by 20% to 30%, which naturally corresponds to a substantial increase in power.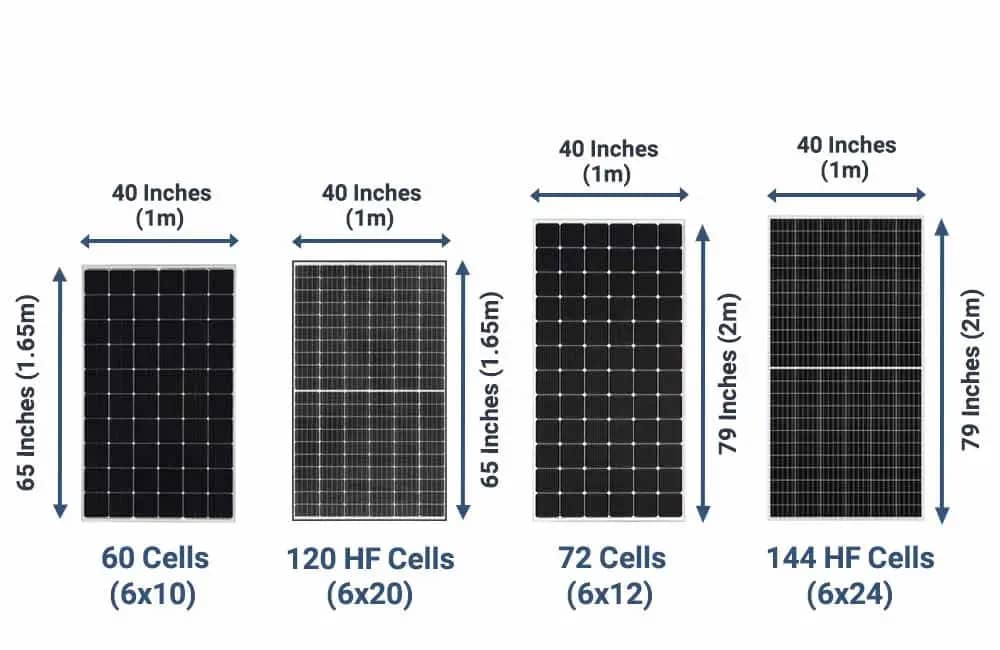 larger cell size
In an effort to reduce manufacturing costs and improve efficiency, most manufacturers abandoned the standard 156 mm (6-inch) square cell wafer size in 2020 in favor of larger wafer sizes. While there are a variety of battery sizes in development, several have become the new industry standard; these include 166mm, 182mm, and 210mm. Many leading manufacturers, including Jinko, LONGi and Canada, use the 182mm format. Trina Solar is pushing for a larger 210mm wafer size, while Longi, the world's largest monocrystalline wafer maker, uses 166mm and 182mm sizes depending on the application.
To remain competitive, many low-volume manufacturers may need to align with a new wafer size to take advantage of common wafer and equipment suppliers. To understand the complete history and insights into wafer and photovoltaic cell size standards, this detailed article from PV Tech examines various wafer and ingot sizes, technology changes, and current and future photovoltaic cell manufacturing trends.
In addition to different battery sizes, there are countless new panel configurations built around multiple battery combinations. The three most popular panels currently are the 66-piece (half-piece 132), 78-piece (half-piece 156), and 84-piece (half-piece 168) panels. The extra-large 210mm cells are also ideal for unique cell segmentation formats such as 1/3-cut cells; where a square wafer is divided into three segments instead of the common half-cut or half-size cells.

High efficiency battery
To achieve these impressive power ratings, panels and cells have not only increased in size, but cell efficiency has increased significantly through the use of numerous new technologies (listed below) as well as more advanced backside passivation technologies such as TOPCon.
MBB – Multi-Busbar and Micro-Busbar
PERC/PERC+ – Passivated emitter and rear cell
Heterojunction (HJT)
TOPCon – Tunnel Oxide Passivated Contact
N-type silicon battery substrate
High-density batteries – reduced battery gaps
Manufacturers are exploring ways to improve power and battery efficiency by investing heavily in research and development. N-type silicon wafers are one of the best ways to improve efficiency, but have traditionally been more expensive. However, the price gap between P-type and N-type silicon is narrowing as economies of scale reduce the cost of manufacturing high-performance N-type silicon wafers used as the basis for more efficient HJT and TOPcon cells. In the future, perovskite cell technology is expected to become stable and viable, enabling manufacturers to create next-generation tandem cells with power levels up to 800W.
Things to consider when choosing the highest watt solar panels
Simply put, the highest wattage solar panels offer the greatest value to the specific type of customer who can use these panels effectively, while ignoring their shortcomings. For most people, buying the highest wattage panels in the industry may not be the best option. The only difference between low wattage solar panels and high wattage solar panels is the number of solar cells used in the panel. The greater the number of cells used, the greater the power output expected. Those looking for the highest wattage solar panels must consider the following factors before purchasing solar panels.
cost
There is no denying that the highest output solar panels are quite expensive than standard solar panels. Their cost is usually high because they can store more energy and be used for heavy-duty functions.
However, the biggest benefit of investing in high-wattage solar panels is their high capacity and power output. The greater the capacity, the more power it can provide. Therefore, it is a perfect one-time investment in a lifetime.
environmental conditions
The wattage of solar panels does not impact the environment in any way. However, certain environmental conditions must be present to exploit the maximum power output. For example, electricity storage is only possible if the weather is clear and the panels get enough exposure for several hours.
Some advanced panels with the latest technology can store power for several days, so severe weather conditions may not be an issue.
Inverter compatibility
Among some important considerations, inverter compatibility is one that must be considered. Although most manufacturing companies do not offer these features, some of the major advantages of this microinverter technology are flexibility in panel layout, quick shutdown, more energy saving, and many other features.
highest watt solar panel FAQ
What is the highest watt solar panel from Sungold?
For residential panels, the highest watt solar panels available are around 500W, which is more than enough for residential use. Residential panels have a wattage limit of 500W due to the need to ensure that the panel size will fit on most roofs.
Are higher watt solar panels better?
They are not technologically superior to smaller panels: Higher watt solar panels work on the same technology as smaller panels. As you can see, highest wattage solar panels are just the same as other panels. The only differences are that higher wattage panels are bigger, heavier, and have a higher output.Highest wattage panels are better than standard panels in terms of their power output. For instance, the highest wattage panels range from 500W to 700W of power output, whereas the power output of standard panels is below 400W.
Who are the highest watt solar panels designed for?
Talking about solar panels, the highest-output solar panels are made for commercial use and have flexible power or energy storage options. They are meant to cater to the high energy needs in commercial buildings.
Are the highest watt solar panels worth it?
Residents in areas with higher-than-average electricity prices, such as California, will benefit more from a solar panel system than residents in areas with lower electricity costs. Energy consumption also affects the benefits a solar system brings to your home. High wattage solar panels don't necessarily offer any advantages when it comes to performance. High-wattage solar panels are generally no better (or worse) than standard residential panels in terms of efficiency ratings, temperature coefficients, or other specifications. They have higher power ratings simply because they are larger.
What is the maximum wattage of commercial residential solar panels?
The highest wattage solar panel that is commercially available for residential use is constantly evolving as technology advances. As of 2023, the highest wattage solar panel available for residential use is around 500 watts.
Several manufacturers produce solar panels with a wattage range between 400-500 watts. These panels use advanced technology such as larger solar cells, increased panel efficiency, and more advanced manufacturing processes.