Texas Solar Panels is rich in solar energy resources, and the state is one of the national leaders in solar energy utilization. As the center of the U.S. energy industry, Texas plays a huge role in all power industry trends.Solar Power Generation The second is solar power generation capacity. By 2023, the state will have more than 18,000 megawatts (MW) of installed solar capacity, enough to power more than 2.1 million homes. While the state has installed a significant amount of solar energy to date, solar energy provides only a small portion of the state's total energy. Still, with strong solar incentives—such as utility solar rebate programs, renewable energy property tax exemptions, and solar tariffs—it's never been easier to go solar in the Lone Star State.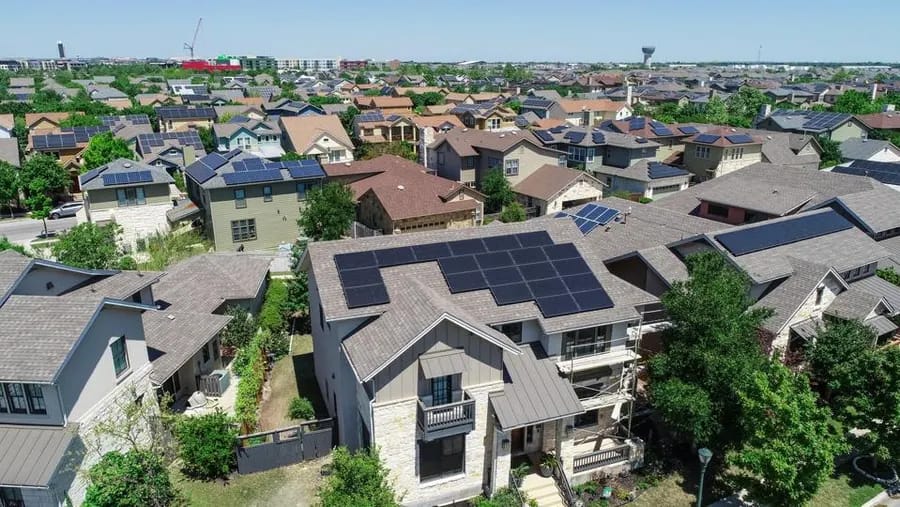 How much do cost of  Texas Solar Panels?
Texas data shows the average cost of solar panel installation is $11,560 to $15,640. On a cost-per-watt basis ($/W), the price to install solar panels in Texas ranges from $2.31 to $3.13. Learn how solar panel costs compare in Texas versus across the U.S.
How long does it take to recoup the initial investment in solar panels? Solar payback period is the time it takes for a property owner who installs solar panels to recoup their initial investment through electricity savings. In Texas, the average solar payback period is 10.71 years.
Regardless of the exact cost of installation, there are many affordable financing options for solar panel systems. Cash purchases are a common way to pay for solar and often get the best long-term value for your money. If buying up front isn't right for you, solar loans and solar lease/power purchase agreements are available to help finance your solar system.
Best National Solar Panel Companies in Texas
Texans have hundreds of options when choosing a solar panel installer. More than 500 solar companies operate in Texas, including several large solar farms capable of powering tens of thousands of homes, according to the Solar Energy Industries Association.
We can help you sift through the abundant options by narrowing down some of the best national solar panel companies in Texas. Here are some of our picks for national solar companies.
Sunrun: Sunrun is one of the largest residential solar companies in the United States, providing solar and storage solutions.
Vivint Solar: Vivint Solar provides residential solar panel installation and solar services.
SunPower: SunPower is known for its high-efficiency solar panels and provides residential and commercial solar solutions.
Sunnova: Sunnova provides solar and energy storage solutions to homeowners in multiple states, including Texas.
sungold: SUNGOLD is a solar panel manufacturer and solar energy supplier integrating R&D, production, sales and service.We provide various types of solar panels including rigid, portable, and flexible solar panels to areas across the US.
What solar panels to install in Texas?
For homeowners, you can now customize the solar panels, inverters, racking systems and batteries, as well as the overall aesthetics of the installation. This customizability makes it important for solar consumers to understand these different factors. For example, the best solar panels may have higher efficiencies and warranties, but typically cost more. However, depending on the size of your installation, you'll need to decide whether it's worth it to go with high-efficiency solar panels that can produce more electricity. Additionally, your risk appetite can help determine which solar warranty is best for your needs. These are just a few of the many factors to consider when choosing solar panel equipment.
How much energy can I get from solar energy in Texas?
In addition to the power output of the solar equipment you choose to install, the energy produced by your Texas solar panels is directly related to the amount of sunlight that hits the panels. Fortunately, Texas has the strongest sunshine and higher average peak sun hours, making it easier to save as much money as possible on your solar panels.
There are other factors that determine how much solar power you can generate. These include shading and panel angles, which are used to calculate your total production estimate. Predict how much energy your solar installation will produce over time. This assessment provides a clear estimate of how much energy your solar installation will produce. You can use the EnergySage Solar Calculator to find out how much solar panels can save you based on factors like location and shade.
What rebates and incentives are available for solar panels in texas?
The federal Investment Tax Credit, now called the Residential Clean Energy Credit for Residential Systems, has been one of the most reliable and impactful solar incentives in the United States. This solar incentive allows you to deduct 30% of the total system cost from your solar energy. Federal taxes. For example, a solar system installation with an out-of-pocket cost of $15,000 would qualify for a $4,500 tax credit. For residential systems, this favorable incentive will continue until the end of 2032, when the share will drop to 26%. The federal ITC will drop to 22% in 2034 and subsidies for residential solar installations will be eliminated in 2035. Commercial systems are eligible until at least 2024 but may not qualify for the full 30%, depending on certain labor and domestic manufacturing requirements; they may also qualify for specific ITC adders.
Texas Solar Panels Incentives and Rebates
Texans who purchase solar panels between 2022 and 2032 are eligible for a 30% federal tax credit called the Residential Clean Energy Credit. This solar tax credit was once called the investment tax credit and can save you thousands of dollars. Texas residents can apply for the Clean Energy Credit on IRS Form 5695 by following these instructions. Texas has a property tax exemption to protect you from property tax increases when solar panels increase the value of your home.
Here are other opportunities to save money with local and state solar incentives in Texas.
Texas solar incentives
| | |
| --- | --- |
| Program | Description |
| AEP Texas SMART Source Solar PV Program | AEP Texas (Central and North) customers are eligible for solar incentives based on the maximum amount of energy produced ($/watt DC). Incentives apply only to solar systems installed by solar companies currently enrolled in the program. |
| Austin Energy solar rebate | Austin Energy customers can qualify for a $2,500 rebate by completing this solar education course and "installing a qualifying solar photovoltaic (PV) system." |
| CPS Energy solar rebate | CPS Energy customers can receive up to $2,500 per project for excess solar energy. |
| El Paso Electric Interconnection | El Paso Electric credits qualified solar owners for "the amount of renewable energy generated against the consumption received from EPE." The system size cannot be more than 10 megawatts. A base electricity bill of $30.25 will apply. |
| Garland Power & Light EnergySaver Program | Customers earn electric bill credits for each kWh of excess energy produced through solar panels that meet GP&L requirements. |
| Green Mountain Energy Renewable Rewards Buyback Program | Customers can earn electricity bill credits when they "install and activate a quality solar energy system at your home with a rated capacity of less than 50kW." |
| Guadalupe Valley Electric Cooperative Solar Simplicity | Homeowners can sell excess energy back to GVEC. According to the interconnection agreement, "energy produced by the Installation may be purchased by GVEC at the then-current GVEC renewable energy rate." |
| Net Metering Programs | Texas offers net metering programs, which let you sell any excess solar energy generated by your system back to a utility company. Check with your electric provider to see if a net metering program is available in your area. |
| Oncor Residential Solar Program | Solar owners who meet the Oncor requirements may qualify for energy bill credits. |
| Residential Clean Energy Credit | Homeowners can claim a 30% federal tax credit for systems installed from 2022 to 2032. Apply through the IRS. |
| TXU Energy Home Solar Buyback | TXU customers "can offset up to 100% of your monthly energy charges" when enrolled in the Solar Buyback program. Renewable energy produced through solar or wind power is applicable. |
Texas solar panels FAQ
Does Texas subsidize solar panels?
No. Texas does not subsidize solar panels. The federal Residential Clean Energy Credit allows solar owners to apply for a 30% tax credit. Additionally, there are many rebates and incentives available to Texas residents at the state and county levels. Net metering, which offsets electricity bills by sending excess energy back to the grid, is another way to get a return on your investment with solar panels in Texas.
What are the advantages and disadvantages of Texas Solar Panels?
Overall, Texas is a great place to install residential solar panels because the state has plenty of sunshine year-round. Texas solar rebates and incentives offset out-of-pocket costs and net metering benefits for Texas electric providers, reducing qualified customers' electric bills. On the other hand, if your electric bill is already relatively low, or your home is heavily shaded by trees or buildings, solar panels in Texas may not be a good option. Additionally, if your roof needs to be replaced, the additional cost may extend the time it takes for your solar panel investment to pay back.
Can you get free solar panels in Texas?
Texas has many different incentives to encourage you to go solar, but none of them cover 100% of the cost. You may see companies marketing "free solar panels," but this usually refers to a lease or power purchase agreement where the company installs the solar panels on your house and you only pay a monthly fee or a fee per kilowatt-hour. Electricity bill. These panels aren't free, they just have no upfront cost, and you should compare the potential costs and savings to other solar options.
How long does it take to pay off  Texas Solar Panels?
In Texas, a 6 kW system costs $15,060, or $10,542 after factoring in the federal solar tax credit. Considering these numbers, Texas residents can enjoy a relatively short payback period of 6.6 years. Considering the lifespan of a typical system is 25 to 30 years, Texans can enjoy nearly 20 years of free energy after paying off their solar panels. The payback period for solar power in Texas is also lower than the national average of 8.5 years.
Payback period can vary depending on a variety of factors, including system size and where you live. For example, a system in Dallas may take longer to pay off than a similar system in Houston.