On September 6, 2022, Intersolar Mexico opened its grand opening at Centro Citibanamex, Mexico City.
It also brings together professionals in the industry to discuss the future of new energy development in Mexico.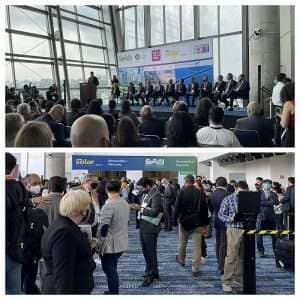 Sungold Solar is a solar panel manufacturer from China.
It is a great honor to participate in the Mexico exhibition and communicate with partners in the solar field from all over the world.
In this exhibition in Mexico, Sungold Solar displayed 4*100W HP folding solar panels for high energy storage output,
glass-free and lightweight 110W flexible solar panel, and portable solar panel products.
These products capture the attention of customers. They were very interested in it and talked to us very enthusiastically
to understand the features and applications of the solar panels.
Many customers came to the booth to have in-depth communication on product technology and product advantages.