Solar power is popular renewable energy. It has many advantages over other types of energy, such as being environmentally friendly and cost-effective. Therefore, portable solar panels are a great choice of investment for homes or businesses. It can be used to power appliances, charge batteries, and even power lights.
The idea of portable solar panels is not new. However, in recent years, more people have started using them. The reasons are obvious:
1.Portable solar panels are lightweight and easy to carry around.
2.They can be used by anyone regardless of their technical knowledge.
3.They're a great way to get off-grid electricity without spending too much on equipment.
A portable solar panel is a great solar solution for hiking, RV, camping, etc. It can be used to charge your phone or laptop when you're out in the wilderness.You can move it as needed. The best part about these panels is that they can be used anywhere! They don't need any special area or setup—just grab them and go!
The Best Portable Solar Panels in 2022
The Sungold®Hi-Power Folding Solar Panels are one of the best products on the market today. With their high-quality components, these products will save you money while providing reliable power throughout the day or night time when needed most.
They come with many features that make them one of the best portable solar panels for investment in 2022. Here are a few features of them:
Portable and Foldable
The Sungold®Hi-Power Folding Solar Panel is portable. The folding design makes the solar panel easy to transport and store, while its folding design allows you to take advantage of small spaces such as on rooftops or in emergency kits when needed. These portable solar panel kits are also perfect for camping, hiking, traveling, and even as a backup power source when you're out in the wilds.
Lightweight
The Sungold portable solar panels have a lightweight design, so people won't have trouble carrying them around with them anywhere they go. The portable solar panels also have a large capacity, which means you can get more power from the sun than other products on the market.
Large Portable Power Station
These portable solar panels have a high-power output which is compatible with the 1-2.5KW portable power stations. The solar panels also have high efficiency and high-quality cell which can effectively transmit solar energy to the house or business without affecting its performance.
Easy to Use
The Sungold folding solar panels are very easy to use, which makes them ideal for people who want to save budget on electricity bills by using solar energy. Just set up the panel in an area where there's direct sunlight for most of the day, plug in the appliances, and they're ready to go!
Multiple Model
The Sungold portable solar panel kits come in different models that have different Pmax output and folded sizes, which allows users to choose the right one that fits their needs best.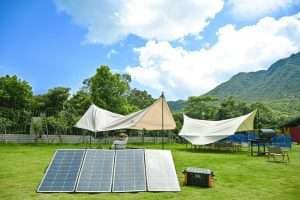 Sungold – A Reliable Supplier of Solar Panels
Sungold is a leading supplier of high-quality solar panels, and we are trusted by many customers worldwide. If you want to invest in solar power equipment that attracts many customers, then Sungold is the right choice for you!
We have been providing customers with quality products for more than 14 years now, so there's no doubt about our reliability in this industry. We also have a proven track record of providing our customers with products that can last for decades without any maintenance or repair work being required.
Conclusion
The Hi-Power Folding Solar Panels series is the best portable solar panel kit investment. They are made of high-quality materials and components, which means they can withstand the harshest conditions. They also have a long lifespan, so you don't need to worry about replacing them soon. If you want to learn more about portable solar panels, please don't hesitate to contact us!