Are you interested in learning more about solar panels crypto mining? We've put together a simple question-and-answer approach to everything you need to know about cryptocurrency mining with solar panels.
How Many Solar Panels Does It Take To Mine Bitcoin?
The number of solar panels it takes to mine bitcoin depends on the percentage of your energy you want coming from solar power as well as how much bitcoin you need to mine. It also depends on factors such as your location, the aspect of your roof, how much space you have available for solar panels, and what type of solar panels you wish to invest in.
However, it typically takes around 450 to 500 Watts to run a single mining rig. This rises to anywhere from 900 to 1,500 Watts when running multiple graphics processing units (GPUs).
Solar panels installed in a sunny location within the U.S. will produce around 229 Watts per square meter of solar panel on average.
It's estimated that bitcoin miners would need somewhere between six to twelve square meters of solar panels taking cloud cover into account, as well as the inability to generate solar power at night. A battery system is also necessary for storing energy to keep the GPUs running through the night or when there's a considerable amount of cloud cover.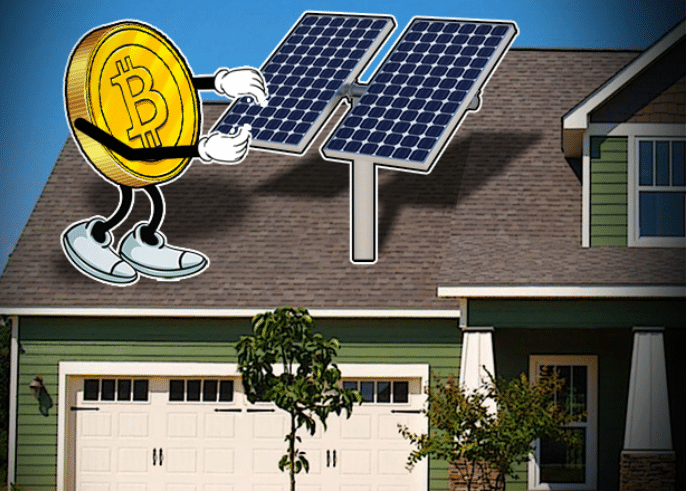 How Much Does a Solar-Powered Bitcoin Mining Rig Cost?
GPUs cost anywhere from around $300 to over $1,000. However, you should factor in the initial cost of the GPUs when calculating rates of profit.On average, a bitcoin mining rig will cost anything from around $3,000 to $10,000 or more.
And you'll need to factor in the initial costs of solar panel installation if you intend to power the rig with solar energy.
Pros Of Solar-Powered Crypto Mining
The electricity to run your bit mining operation is free once you've installed your solar panels. You won't have to worry about paying for electricity for years to come since modern solar panels last for several decades.
The biggest cost of solar-powered crypto mining lies in the initial costs for the setup. There are few, if any, ongoing costs. And the result is a steady stream of passive income that can mount up over time.
Unfortunately, using regular sources of energy to power bitcoin mining has a negative effect on the environment since the process of mining is energy-intensive. Conventionally produced energy contributes to the burden of greenhouse gases, as well as causing a number of other pollution problems. Solar-powered bitcoin mining is a green, eco-friendly solution.
Additionally, there are many reasons why a power grid will experience interruption. Although solar power is immune to most of them! Once your system is installed, Solar power provides a robust, reliable form of energy once your system is fully installed.
If you like being independent and self-reliant, solar power provides a dependable source of energy that's exclusively yours.
Cons Of Solar-Powered Crypto Mining
The main drawback of solar-powered crypto mining is the relatively high up-front costs. It's well known that the grid is cheap to start using since you only pay for the power rather than the infrastructure needed to run it.
There may also be issues around the amount of electricity produced by solar panels. A period of bad weather, for example, can significantly reduce the amount of solar power your panels produce.
You'll need to remain committed to bitcoin mining for several years before you recoup the costs of your initial investment due to purchase costs of solar infrastructure. You'll also need to mine on a relatively large scale to recoup costs.
The amount of space you have available to house solar panels also restricts the amount of solar power you generate. It may not be possible to install sufficient panels to run your bitcoin operation depending on your living circumstances.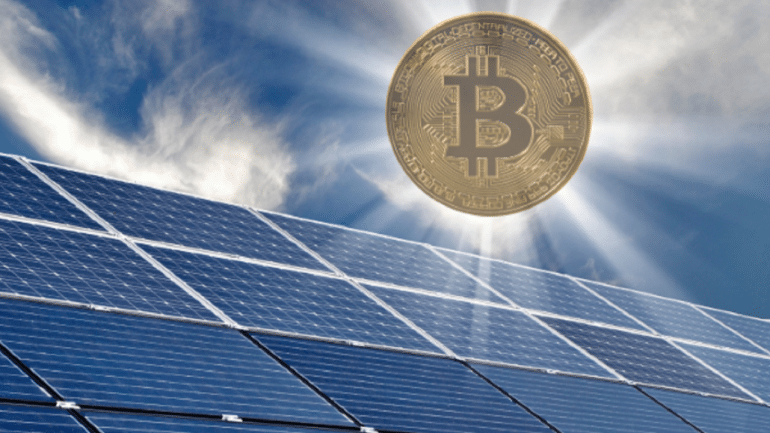 Where Is Solar-Powered Crypto Mining Taking Off?
The U.S. leads the way in crypto mining, doing more of it than any other country. The following cities have the highest proportion of solar power per capita in terms of solar power generation.
Honolulu, HI
San Diego, CA
Albuquerque, NM
San Jose, CA
Burlington, VT
San Antonio, TX
Las Vegas, NV
Phoenix, AX
Riverside, CA
Denver, CO
Are There Any Tax Breaks For Solar-Powered Crypto Mining?
If your crypto mining is classed as a business, you should be able to claim the infrastructure needed to run the operation as a tax-deductible expense.
There are also a variety of grants and tax exemptions available for homes and businesses with solar panel installations. Currently, the U.S. government offers a 30% tax credit for solar systems installed through 2032. This tax credit will fall to 26% in 2033