Nowadays, energy trends are steadily increasing, and more and more households are choosing to use solar energy as one of the ways to obtain electricity.
In the long run, the effective use of solar energy not only reduces the use of fossil fuels such as coal but is also in line with the concept of sustainability. The development and exploration of solar energy continue.
Solar energy is being used ever more creatively, from small homes to art installations.
Solar Energy and Homes
Small home solar systems are solar systems designed specifically for low-energy residential use. Small home solar systems can take many different forms: from stand-alone power generation units that are then used by the home, to systems that are integrated into the home grid and provide electricity to the utility company.
In the past, people built solar power stations on the ground. Slowly, home solar systems have developed and rooftop solar systems are widely used. Balcony solar systems and wall solar systems are also appearing in the public eye. Creative uses of solar energy are constantly being shown.
Solar energy and art installations
1、Solar flower installation art
Solar flowers that bloom worldwide are the creation of artist Alexandre Dang, an artist who actively thinks about social development in the language of art. He takes the environment, nature, and life as his theme, and uses renewable energy to create artworks with kinetic energy.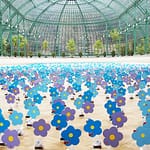 These "Dancing Solar Flowers" are made of paper flowers with a set of solar cells and motors. The photovoltaic cells turn solar energy into electricity and drive the motors to rotate, and the flowers will keep swinging as long as the light source is sufficient.
These solar works are lively and poetic, and more importantly, they inspire people to use more renewable energy to build a better world. The Sunflower exhibition highlights the power of kinetic energy generated by sunlight or artificial light sources.
His works also guide the public to think more deeply about today's energy use, as well as about the future of energy development and the protection of the natural environment, and timely reflect the transformation of today's society and the ever-changing world, especially about the available energy for human society, which will be a major challenge for human society in the future.
2、Solar Tree
Koichi Takada Architects designed a three-story marketplace in Shanghai, China, that is all about trees – whether natural or man-made – and creating a greener future.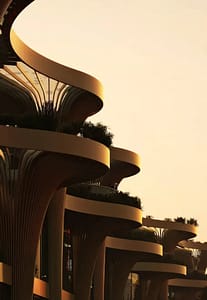 The Solar Tree Market project has a total floor area of 3,450 square meters. 32 architectural "trees" inspired by the forests of Shanghai create a shaded canopy with modular market stalls underneath. Just like real trees, artificial trees provide shelter and shade while allowing fresh air to flow through the space.
Thanks to a translucent canopy and solar panels, the structure will also generate energy, creating a sun-filled interior that will make shoppers feel like they are outside.
The nature-inspired project, designed by Koichi Takada Architects, hopes to show that it is possible to transform one of the world's ten busiest cities into a healthier, more sustainable place to live. Solar Tree Market intends to set a new green benchmark for mixed-use residential development.