SUGOLD flexible solar panels wholesale
Sungold flexible solar panels are lightweight and carryable, you can not only mount them fixedly but also carry them wherever you go. Sungold flexible solar panels can be adapted to different application scenarios, especially for sailboats, trawlers, yachts, van or boat roofs that have a curved uneven surface, you can even bring the panels for camping and road trips, which makes them extremely versatile. Sungold flexible solar panels are thin, lightweight, and compact, making them easy to transport, install, and store, making them the perfect solar partners for your every adventure.
TF series flexible solar panels adopt Sungold patented material and ETFE surface layer to provide better protection and stronger surface resistance for solar cells. The maximum bending arch height can be up to 360mm, which minimizes the problem of mounting and even curved surface.TF series has three kinds of cells: stacked, monocrystalline and sunpower and many power ranging from 55W~290W, the maximum power generation efficiency can be up to 24.40%, which provides you more flexible ETFE solar panel choices. Suitable for RV, camping, marine and many other off-grid application scenarios.
Best flexible solar panel Sungold LEE series has a maximum efficiency of more than 24.4%, thanks to the double-sided ETFE material and special surface particle design, which reduces sunlight reflection. The panels bend approximately 15 degrees for easy installation, making them ideal for boats, RVs, rooftops, tents and other irregular surfaces. The LEE series provides two types of cells: monocrystalline and sunpower, as well as numerous power options from 60W to 270W. The MC4 connector has stronger adaptability and compatibility, making connection and installation more convenient. It is the best flexible solar panel choice for boats, RVs, roofs, and tents.
Flexible solar panel kit LE series is a PV module developed by Sungold that is both flexible and impact-resistant. Like most thin film solar panels, LE flexible solar panels use ETFE surface material and adopt ultra-thin lamination technology. The overall thickness is only 4mm, which is 1/3 of traditional rigid solar panels, and the weight is only half of traditional solar panels. It is more flexible and convenient to transport and install, reducing the burden of your journey. The optimal solution for flexible solar panel kits for various roofs and various flat surfaces with poor load-bearing.
High Efficiency: The solar panel incorporates back-contact SunPower solar cells renowned for their exceptional efficiency, ranging between 22.4% and 24%.
Durability and Waterproofing: The SP series utilizes high-quality ETFE material imported from Japan, providing exceptional durability. It can withstand high temperatures up to 242℃ and boasts excellent IP67 waterproof capabilities.
Flexibility and Aerodynamic Design: The SP series solar panels offers enhanced flexibility, allowing for bending of up to 30°. This flexibility proves advantageous for installations on caravan or yacht roofs, while its aerodynamic design ensures optimal performance.
Aesthetically Pleasing: The SP series sunpower flexible solar panel exhibits a sleek and seamless appearance. Its inherent flexibility enables it to conform seamlessly to various surfaces, resulting in visually appealing designs.
Why Choose Flexible Solar Panels?
Flexible solar panels vs. rigid are lighter and thinner and possess a bending ability, so they are easier to carry, transport and simplify installation.Sungold's flexible solar panels feature high-quality solar cell and ETFE surface materials, which have a solar conversion efficiency of up to 24.4%. The integrated lamination technology makes them thinner and lighter, with good resistance to salt spray and water, as well as oxidation and UV resistance, leading to more stable performance and a longer service life.
Flexible solar panels product features
Lightweight to Poor Loading Roofs
Sungold flexible solar panels effortlessly adapt to a variety of surfaces, both flat and curved. Whether you're looking to power caravans and campervans, RVs or boats, or to power equipment on a safari, flexible solar panels are the perfect choice for roofs with less load!
Portable for Temporary Installations
Flexible solar panels can be installed through metal-reinforced mounting holes, suspended or fixed with screws. No manual drilling is required, making installation and disassembly easier and portable design,suitable for temporary and short-term installation. You can also use silicone structural glue for fixed installation, which will be more secure without gaps.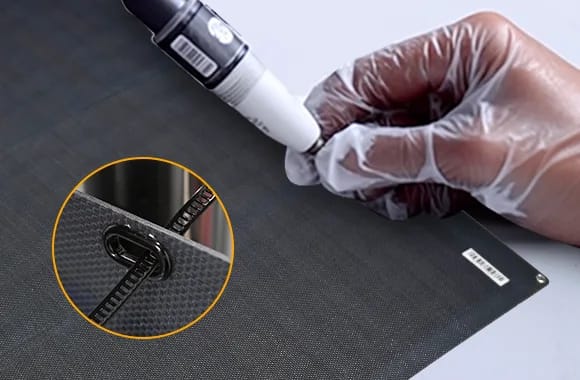 Excellent Performance in Poor Light Conditions
Sungold flexible solar panels are manufactured with high quality solar cells and the latest solar cell technology. The surface material reduces the reflection of solar light and provides better performance than traditional solar panels in cloudy weather and shade conditions.
Easy Cleaning, Low Maintenance Cost
Sungold flexible solar panels are laminated and sealed without a frame, you don't need to worry about cleaning the solar panels after they are put into use, simply whisk off the surface dust with a damp rag, no additional cleaning and maintenance costs are required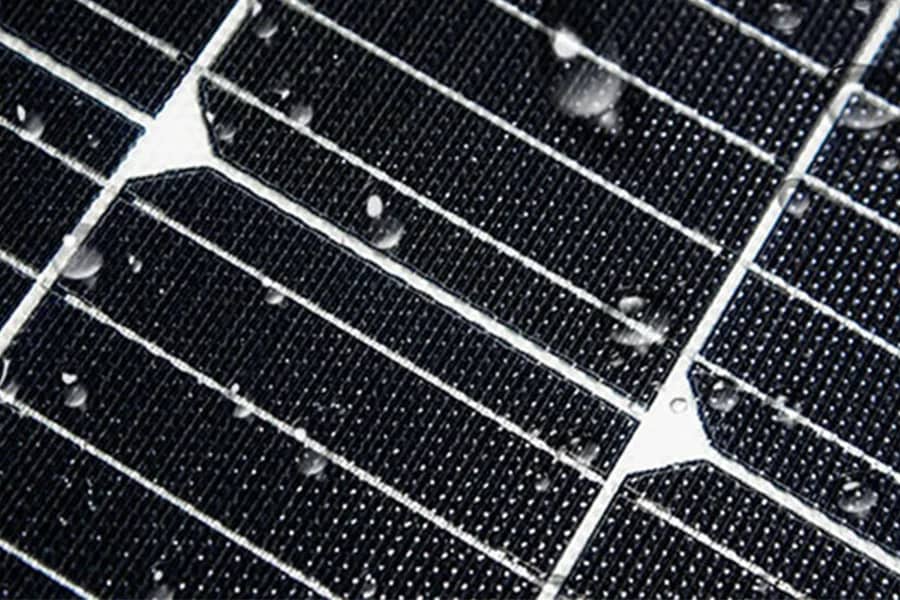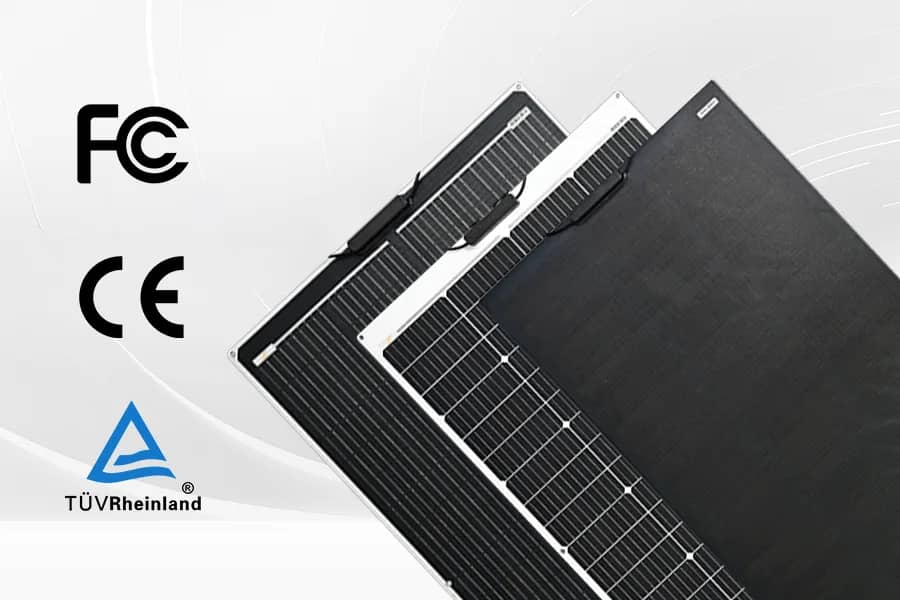 CE RoHS Certified,Quality Guaranteed
Sungold flexible solar panel has three series: ETFE solar panel TF series, flexible solar panel kit LE series, and best flexible solar panel LEE series, all of which have obtained CE, RoHS professional certificates, and Sungold is upgrading product technology in an effort to meet higher standards, quality is guaranteed and trustworthy.
Frequently asked questions
What are flexible solar panels, how they are used, pros, cons, pros and cons to consider and buying guide for flexible solar panels wholesale
Sungold's comprehensive flexible solar panels portfolio ensures maximum flexibility to address all of your energy needs.
If you are interested in our products and want to know more details,please leave a message here,we will reply you as soon as we can.